Few people within boxing will not have heard of Micky Vann. I'd bet a fair few outside of the sport will be familiar with boxing's most famous third man in the ring. He's the man I turn to if I have a question regarding my fledgeling refereeing career and I'm proud of the fact Mickey is coming to Bethlehem to give a master class in refereeing.
Although he was forcibly retired by the British Board of Boxing Control for the heinous crime of reaching sixty five years old, Micky has kept his hand in refereeing international bouts and recently came on board with the Maltese Boxing Commission.
The idea of training referee's is an initiative by the Maltese, partly to keep ex pro boxers involved in the sport. This is good because years of experience can go to waste when a boxer retires unless he takes up training. But for different reasons, not every ex boxer can become a trainer or promoter, so this offers another way of staying in the sport. As far as I can see, there is no standardized referee training on offer, generally the way in is by doing a series of assignments.
Micky will be offering hands on experience in the ring and a question and answer session. He'll be going over common occurrences such as clashes of heads, when to stop a fight and when to let them continue. It should be an interesting day, we've already got quite a list of names attending and we've had to tell the cafe below the gym to open up on the Sunday it will take place!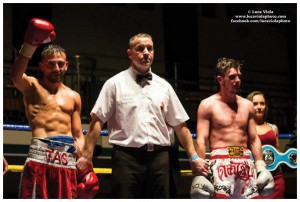 I've reffed for a few years now, I'm ambitious and recently stepped up and reefed my first title fight, a British Masters title, I have affection for the title as it was a belt I won quite early in my career and I'm glad the MBC have taken over this from BBBC as it is a really good platform for up and coming fighters. Regular readers will be aware I've being reffing in Malta, as well as throughout the UK. I wrote in a column a few months ago when I'd sought Micky's advice when I waved fight on when a boxers gum shield came out. I was quite heavily criticised for it but good advice from Micky set my mind at rest. The best bits of advice I've been given? Stay close to the action so you can stop it quickly if needs be, the second? Keep on moving…you really don't want to be on the receiving end of a right hook!
My next show is on the 7th June at the Pryzm Night Club in Leeds City Centre. Sam Smith will be making her second professional appearance, which hopefully will put her on the road to a title challenge. Seacroft's other female boxer Sophie Varley will get onto domestic matters as she skipped the entire pecking order by winning an international title. So now it's back to the EBF domestic scene for the Women's English Bantamweight title.
Crossgates fighter Liam Hayes is also on the bill, he's finding some of his old form after a break and hopefully there will be an area title challenge on the horizon. Same goes for Alex Ferguson who makes his comeback after a six month injury lay off and he'll be looking to make a light middle weight challenge in the near future.
So the next shows at Pryzm, anyone interested in going, just give me a call or email.