Sometime's we all have to put our hands up and admit to making a mistake. So, I'll start with poor Sophie Varley whose scheduled title fight in my February show at the Arla was cancelled due to her not making the weight. She thought she was right on target only to find the bathroom scales weren't too accurate.
It's just one of those things and she showed tremendous spirit to still box on the show, I just felt a bit sorry for her opponent who took the brunt of Sophie's wrath and was hit with a barrage of pent up frustration which only lasted twenty seconds before the ref stepped in and stopped the fight.
On the same bill, Sam Smith scored a points win in her last fight in Bethlehem colours, she was signed to a management contract which she is now released from and I wish her good luck in the future. Other notable fights at the show were Lee Kellet, who got his hands on the WBU Northern Area title and Ryan Taylor scored a good win, he's a man in a hurry and improving very quickly.

Some of you may have seen me carrying the County Antrim flag at the St.Patrick's Day parade on Sunday 13th March. I was honoured to carry the flag of my Mother's birthplace and it nicely balances carrying the County Down flag two years ago, which was my Father's birthplace. Later in the day, Sophie signed professional forms at the Civic Hall. I wanted somewhere memorable to mark the occasion as Made in Leeds TV were covering it and her new sponsor Matt Jackson of Yorkshire Tail Lifts was also in attendance. Sophie signed professional forms with BIBA – British Irish Boxing Authority, which is a new organisation set up to rival or run alongside (depending on your point of view) the BBBC and Boxing Union of Ireland. They hope to create an environment similar to in mainland Europe where more than one authority can license a boxing show. For example, in Germany there are currently three organisations which run alongside each other in perfect tandem. You might have already seen episode one of the new Bethlehem series, the St.Patrick's Day parade and signing will be shown later in the series.
My next show which is at the Egan Suite in Sheepscar (Friday 22nd April) and we will see Sophie's professional debut. People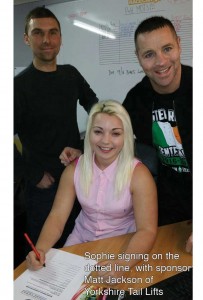 have questioned if it's too early but she's beaten everyone of her weight who's being willing to fight her and as the old adage goes, 'If they're good enough, they're old enough.' The show will also see the return of Crossgates fighter Liam Hayes and Jodie Wilkinson is lined up for a national title shot. Lee Williams will be hoping to bounce back from the knockout he suffered in his last fight.
I thought I'd have a change for this one and unfortunately the Arla Suite which is a great venue was unavailable for the Friday night but it's good to rotate the venues a little and I look forward to seeing you all there.