A quick look back to my last show on June 24th at the Aria Suite. Lee Williams held onto his Semi Pro Boxing Northern area belt with a hard fought TKO win again, does Lee have any other sort of win?
Garforth's Joe Hardy is learning on his feet, he showed rapid improvement although he lost on a very tight decision. Mark Black got dropped early in the first round of his fight, then took a count towards the end of the round but somehow managed to claw it back in the remaining three rounds to achieve a draw.
Guest fighter Shaun Collier lost to the 'Bethlehem Bulgarian' Ivey Givov but the biggest disappointment of the night was Liam Hayes' opponent texting me at the last minute to say he wouldn't be fighting. Fortunately we had Scunthorpe's finest, Jody 'One Man Riot' Meikle who just happened to have his kit with him and he filled in playing the pantomime villain as he used every trick in the book to entertain the crowd and annoy Liam! In all seriousness, a few rounds with Jody will have probably taught Liam a lot, so it wasn't exactly wasted time.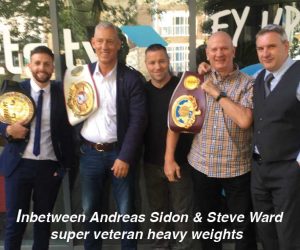 Talking of Jody, I'm refereeing a charity event he's putting on in his hometown for local sportsman Josh Catty who sadly died of a brain tumour aged 20 years old. Semi Pro Boxing are providing all the boxers and insurance for what I hope will be a fitting tribute. Before that, I'm reffing another interesting fight, 60-year-old Steve Ward from Mansfield will fight for the WBC super veteran heavy weight champion of the world title in July at Mansfield Civic Centre. (see pic) His opponent is German national champion Andreas Sidon who knocked out Danny Williams in his last fight, if Danny Williams sounds familiar, he knocked out Mike Tyson way back in 2004. The undercard is made of a Bethlehem Select taking on an East Midlands Select.
Also there's a couple of Bradford shows – August 4th Semi Pro Boxing and 25th Tasif Khan's got a title defence lined up.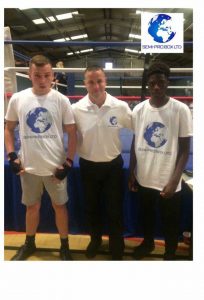 I'm also taking semi-pro Bethlehem teams out to Malta in September, October and November where we will be fighting on the undercard of IBF sanctioned fights with BIBA (British Irish Boxing Association) licensed boxers. Both BIBA and IBF have a similar DNA as their foundation and history have been to become a regulated, recognised alternative to the mainstream. The IBF was founded in the early 80's as an alternative to the World Boxing Association (WBA), World Boxing Council (WBC) and World Boxing Organization (WBO), so maybe had some sympathy with BIBA who along with the European Boxing Council are a legitimate alternative to the European Boxing Union, which seems to operate a bit of a closed shop. I know it all sounds a bit complicated but It's exciting to be part of what could become a world wide organisation.
My next show on 8th September at the Aria Suite is also my 10th Anniversary of promoting. My first show was in 2007 at Sheepscar Club, which ironically was owned by the same people who own the Aria now.
Lastly, going back to my last show, it was great to have Mr and Mrs. Campbell, two of my old school teachers from St. Bridgett's as guests of honour, I can't thank them enough not only for turning up but for their part in giving me a good education in my formative years.
Lee Murtagh 07793 240535
Professional Boxer / Trainer