Boxing to a Plan
I'll start with a quick round up of the East Leeds boxers on my last show at the Aria Suite in early March. Flying the flag for Stanks, Danielle Naylor, was on the right end of a points decision to win the Semi Pro Boxing Yorkshire Area Featherweight title against Sheffield's Chelsea Smith.
It was a hard fight against a tough opponent and as we went into the last round the ref told both corners it was even, so therefore a one round shoot out. Danielle produced her best round of the fight, her opponent just couldn't cope with her speed and aggression and if Danielle had been able to do it earlier in the fight, it wouldn't have gone the distance but it did prove just how good she can be and we're fine tuning her training programme for future fights.
Crossgates boxer Liam Hayes continued on his road map towards professional boxing with a very good points win against another tough, experienced opponent. It proved to be a tactical win for Liam who had to work to a plan after throwing bombs in the early rounds which proved ineffective against a defensive boxer who proved capable of absorbing it. But Liam proved he could box to a plan and outboxed his opponent to score a comfortable points win.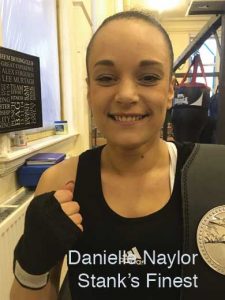 The other Liam, sixteen year old Liam Mc.Elduff suffered his first defeat on points in a close fight. He's still young and generally fighting older opponents but in all honesty I don't think Liam had trained enough for this fight and it was proof you can never rest on your laurels in boxing. Even though he's young, fresh and fit, boxing is a tough, unforgiving sport and if ever proof were needed you have to put in the hard yards, this was it.
After the fight I asked him one question; 'Did you lose or did you learn?' He instantly answered 'I learned.'
And he will have the opportunity to put things right at my next show at the Aria Suite on Woodhouse Street, in what will be his sixth outing, after that, in May, he will also be making his debut abroad in Malta, where he will be fighting another sixteen year old from the island who is a very highly rated prospect, so it will be interesting to see just how much Liam has progressed.
Liam and Danielle will also be on the card at the Aria and a few other boxers who have recently joined Bethlehem including Garforth's Joe Hardy in his fourth fight. Danielle will also be joining Liam at the show in Malta and is also
making her debut outside the UK. We're taking a team of seven out there, they take their boxing very seriously and it's a tough place to fight, with well trained, combative boxers. Made in Leeds TV will be with us, completing the filming for the fourth series of Bethlehem Boxing. The third series has just come to an end although you can still see it on their website.
Tickets for my next show are still
available. It's on Sunday 23rd April and starts at 2pm at the Aria Suite,
Woodhouse Street, Leeds LS6 2JH. Call or email me on the contact details below

Lee Murtagh 07793 240535
trainerleemurtaghbui@hotmail.com