The last few months have seen an upsurge in British Board of Boxing Control (BBBC) licensed boxers in the East Leeds area, many of who have come throughout the semi pro ranks. I find this ironic, as far as I know the BBBC don't recognise the grey area which lies between amateur and professional boxing.

The BBBC call it unlicensed but white collar, semi-pro, call it what you want is selling out small hall venues like professional boxing did in the golden era thirty years ago before the days of Sky TV and let's not forget that's how Frank Warren started out.
On that note, my first show of the year takes place on 28th February at the Aria Suite on Woodhouse Street, a venue I've become very happy with. Sanctioned by the Maltese Boxing Commission, we've got six professional bouts on but the one of most interest to people round here is Seacroft's Sam Smith first fight since her defeat against Christina Linardatou.

She's up against another Greek girl Maria Semertzoglou (don't ask me to say it) who has exactly the same professional record as Sam (five wins one defeat). We're not working on anything that went wrong in her last fight, I'm leaving that up to Sam but she's in humble contemplation at the moment which is exactly where any boxer should be after a defeat. Neither of us has given up on the dream of a world title shot and in some ways the loss can be turned into a positive, as the old saying goes, when you lose and learn, it's not a defeat.
We've got three fighters coming over from Ireland, including Irish International middleweight title holder, Tommy Tolan who is joined by Michael Kelly and Marty Keyes and Lee Kellet is coming down from Cumbria to fight for the WBU (World Boxing Union) Northern Area Title.

On the undercard, Sophie Varley heads up the semi-pros and she's taking on Newcastle's Megan Hall for the WBU Novice Pro National title. The novice pro is a new idea brought in jointly between the MBC and WBU with the aim to bridge the gap before a semi professional turns fully professional. Megan was an amateur star with a formidable record so it will be a great test for Sophie who is training hard for it.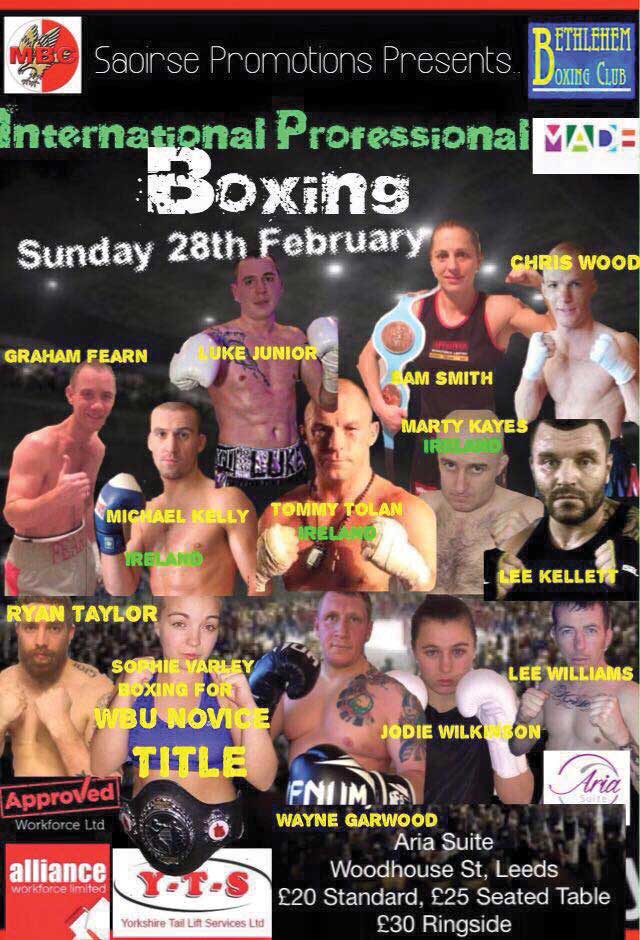 Just a footnote regarding the Bethlehem Boxing series on Made in Leeds TV. When I agreed to do this, I didn't realise the programme would also be shown outside Leeds, in the other 'Made' areas, Bristol, Cardiff, Tyne on Wear and Teeside. So after the initial fuss died down from the Leeds programmes, I started to get calls and emails from people all over the place, some from old friends and opponents who I hadn't seen for years, the boxing world can be a very small community indeed. The down side to this is some trainers have pulled prospective opponents for Bethlehem's boxers after seeing them on the TV, well, we have to take the rough with smooth and I guess that's the price of fame!