Well, it's finally happened, it's taken almost three years to make and I've probably used half a rain forest in publicising it but Lee the Movie (also known as Fighting Down in Bethlehem) finally had it's double premier at Chapel FM. Both showings were full and I saw it for the first time. Did I enjoy it? Well it's certainly strange seeing yourself on the big screen and the whole hassle of arranging the fight and going over to America coupled with the death of my father made some of the footage difficult to watch especially the parts which showed me emotionally stripped naked. I'll be honest, I was a little unsure but on reflection, I enjoyed it. Other people's opinions counted over my own as I was so close to it and the feedback was it was really well received. My old co-manager Terry O'Neil attended and he enjoyed it so that's good enough for me.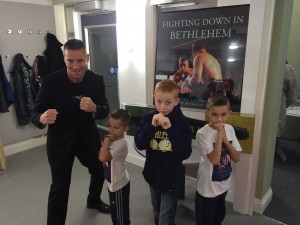 So it's next stop New York State for the American premier on December 12th. It's showing at a beautiful venue called the Water Street Music Hall which is close to the venue in Rochester where the fight took place. I've invited everyone who was involved in the fight, Pretty Girl Promotions who put the fight on, TJ Nolan who looked after me while I was out there, a host of other movers and shakers and of course new friends and old. I can't believe what a big deal they're making of it, they've had posters printed for it and they've booked an Irish-Celtic band to play. I've also invited my opponent Hector Camacho. On receiving his reply it looked like the whole showing could have been off. He wanted to see and approve all footage which involved him, so we've had to send some links over to him, as yet we've not heard back. If he won't grant permission for the film to be shown over there, we've already come up with a Plan B which involves showing an alternative without him in it but it would be a shame if we can't show the film in all it's glory. Meanwhile Ron is doing a little tweaking and also adding some American commentary of the fight.
On a different note, I had a strange request from the EBF to referee in Jersey. I stayed a very enjoyable two nights in St. Helier and it was the local Jersey police taking on a team of Staffordshire Police, in a tournament called 'Battle of the Badges.' I have to admit, I'd never heard of this before but it's quite an established event, they've even had the New York Police Department on one of the shows. A great show and a great weekend, I spoke at length with one of the organisers who is keen to get a team of Leeds police together to take part and he's hoping to get a team together for me to train and compete in Jersey.