Autism drop-in for East Leeds opens up.
A new weekly drop-in service for autistic adults in East and South Leeds has opened its doors this spring, running on Thursday afternoons. The Vale Circles Autism Hub in Beeston is run as part of the Leeds Autism AIM project, providing advocacy, information, mentoring and peer support to autistic adults with little or no funded support.
This hub was opened last month and was funded partly by the Leeds South and East Clinical Commissioning Group (CCG), the NHS healthcare body covering areas such as Cross Gates, Halton, Halton Moor and Whitkirk. This drop-in service is there to complement another drop-in, the Lovell Park Autism Hub – that one's been open since January 2015.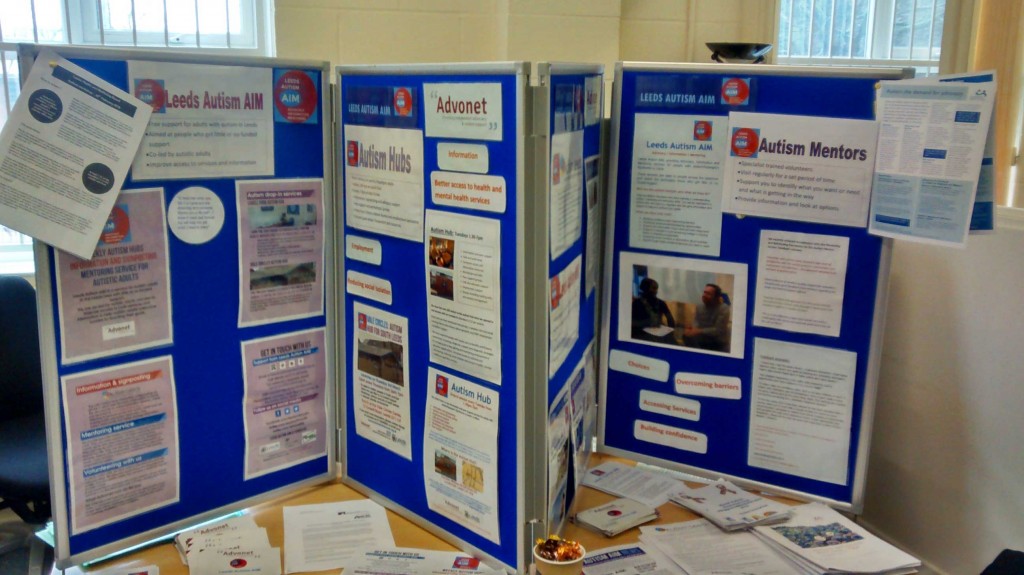 What happens there?
The Vale Circles Hub has all kinds of support and information on offer for autistic adults in the southern and eastern areas of Leeds. In separate rooms, people can get advice from the staff and volunteers on such things as employment, benefits, care and achieving life goals.
Every week at Vale, we have someone in from the Chapeltown Citizens Advice Bureau from 3pm to 6pm to answer some of the most difficult questions and offer specialist advice around things like benefits. He's part of their autism service and also works at the Lovell Park hub.
On a fortnightly basis, we have a volunteer in from 2pm to 5pm who offers advice and support around looking for and finding work, as well as getting into volunteering. He's had autism awareness training and has experience of helping autistic adults to find a job.
We're also holding fortnightly cooking lessons, starting on Thursday 21st April. These will go through the basics of cooking, from hygiene in the kitchen to making meals from scratch using fresh ingredients. There will also be some groups for younger autistic people aged between 16 and 25 in due course.
Who is it for?
The Vale Circles Autism Hub is there for autistic adults and their parents, carers or partners who receive little or no funded support. It is geared towards people living in southern and eastern parts of Leeds, covering LS9 and most of LS15.
If you're an autistic adult who's in need of peer support, information on autism-specific services in Leeds or advice on a range of everyday topics, this weekly drop-in is for you.
Where and when?
This drop-in is open every Thursday afternoon from 2pm until 7pm. It is held at Vale Circles, 12 Tunstall Road, Leeds LS11 5JF.
For more information about the drop-in and if you would like to come along, simply visit us in person or contact us by email at
leedsautismaim@advonet.org.uk.