Deacon House Students achieve their aspirations.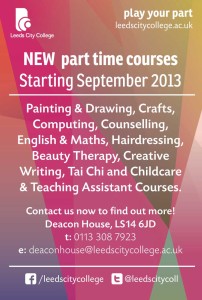 This time next year…
"I will be working in a school as a teaching assistant"
"I will have passed my English & Maths at the next level"
"I will be at University studying a degree in Family & Child Support"
These are just some of the positive responses Leeds City College Deacon House students gave when they were asked what they were hoping to be doing next year.
And these are not just aspirations……..as these success stories from Deacon House show:
Yvonne Murray
Yvonne began her educational journey in 2005 having never achieved any qualifications at school.  At St Gregory's Centre and Leeds City College Deacon House she studied Brush up  English, GCSEs, A levels  and a Level 3 Teaching Assistant Course.
Yvonne then went on to complete her English  Literature and language degree from the University of Leeds and subsequently has undertaken a PGCE at Huddersfield University.
She is now teaching at Deacon House  supporting other learners to achieve their hopes and aspirations.
Lyndsey Campey
Lyndsey had worked part time in a bank as a  Customer Advisor for over 10 years and felt in need of a change.  She said "I had applied for a number of jobs but I was unsuccessful as I did  not have the qualifications they required. I felt deflated and was beginning to lose confidence in my abilities".
In September 2012, Lyndsey enrolled on a computer course at Deacon House. She found she enjoyed learning so much that she also enrolled onto a functional skills Maths course.
Lyndsey is now considering taking her GCSE Maths in 2013 and has told us, "Within 6 months of coming to college I was promoted to a full time banking consultant and feel that Deacon House has played a big part in helping me to achieve this".
Deacon House Centre is offering a variety of part time courses for adults including basic computing courses, "Brush Up" & GCSE courses in Maths and English, English for Speakers of Other Languages (ESOL), Childcare & Teaching Assistant, Childcare, Start your own Business plus a range of leisure & hobby courses including Art Classes, Spanish, Family & Local History, Hairdressing, Creative Writing, Jewellery making, Tai Chi plus many more.
For details of all these new part time courses contact us on 0113 308 7923  or email us at:  deaconhouse@leedscitycollege.ac.uk.
For details of the Deacon House Information Sessions, and to book a place on one, please contact:  lianne.wray@leedscitycollege.ac.uk or call 0113 386 1997.