In 2005, fourteen year old Samuel Moore went on holiday with his Gran to Malaga. Disappointed with the lack of Spanish culture on the coast, they went inland to Granada and whilst walking through Alhambra Palace, Samuel experienced Flamenco for the first time.
"The music spoke to me and I knew it was what I wanted to do with my life."
Now a Flamenco guitarist of some renown, he has toured Europe and America among other things but a little closer to home, five years ago, Samuel began to organise the Leeds Flamenco Festival at the Holy Trinity Church on Boar Lane in the city centre.
"Initially we just wanted a show case for the guitar and dance students from Instituto Cervantes Leeds. We didn't realise how popular it would be so the next year we made it into a two day event which combined the community day with bringing a major Flamenco player over to headline. We also wanted them to be accessible so the festival now has three strands; Community, workshops and headline performance."
This year the legendary Juan Martin Flamenco Trio will be performing Fire and Passion. Juan Martín is a truly awe-inspiring guitarist, composer and all encompassing musician of world renown.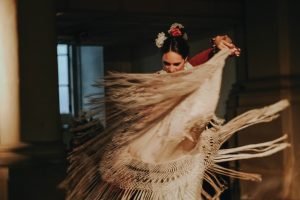 "It's brilliant to have someone like Juan Martin here, not only for the live performance but for what he can give in the   workshops. He has tutored me in the past and he is truly inspirational."
For the uninitiated and let's face it, most of us are, Flamenco originates from the Andalucian Province of Spain.
"The flamenco most of us are familiar with is a style that was developed when General Franco was in charge as a spectacle for tourists. It's often mistaken for Spanish classical guitar but Flamenco is many peoples music with a multi cultural tradition, taking it's influences over many years from folk music, Latin, Spanish Gypsy (Gitano), Middle Eastern, Moors and Jewish. It's not only about the 'Toque' (guitar), it's about  bale (dance) and cante (singing)."
The Leeds Flamenco Festival is also about community and acknowledging the people who have kept Flamenco alive in the UK over the last twenty years as well as introducing it to a totally different audience.