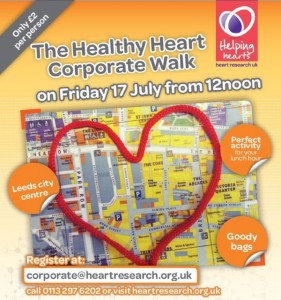 When: Friday 17 July – 12pm until 2.30pm (2015)
Where: Leeds City Centre
Why: To raise awareness of keeping healthy during the week whilst at work
Who: Anyone who works in Leeds
How much: Only £2 per person
We are all guilty of working through our lunch, extended hours and generally not moving enough whilst at work. This is a great opportunity to take part in a healthy lunch break and make a positive effort to change the sedentary life you lead at work. Take a break from your desk, help us with major research into heart disease and increase your health and fitness.
Don't be the company stuck at your desk while the rest of us are taking part. Show that your company is one that values employee health and wellbeing. You can even "netwalk" along the route!
What's happening on the day: Participants are encouraged to leave their desks for an hour or two and walk a short set route around the centre of town (maps provided when you sign up).
Healthy heart activities will be set up at various hubs along the route to encourage fitness, educate people about health and diet and hopefully help people to associate health with enjoyment. Activities will include fitness pointers from Rugby Super League Stars, boxing with Paul 'Silky' Jones (former world boxing champion), healthy heart checks, nutritional advice, fitness competitions (be the fastest business in town), FREE healthy giveaways and more.
Activities will take place in Park Square, City Square, Lands Lane, Briggate and in front of the Leeds Art Gallery. Walkers can join the route at any point along the way and register at their first activity hub to receive their free healthy goody bag!
How to join in: Nominate a Heart Champion at your work to register your employees with us via the below form or email directly corporate@heartresearch.org.uk or call 0113 297 6202.
"Prolonged sitting should become a thing of the past, we encourage new initiatives such as healthy heart walks at lunch time and standing meetings to be incorporated into the working day to help with the sedentary environment of the office."