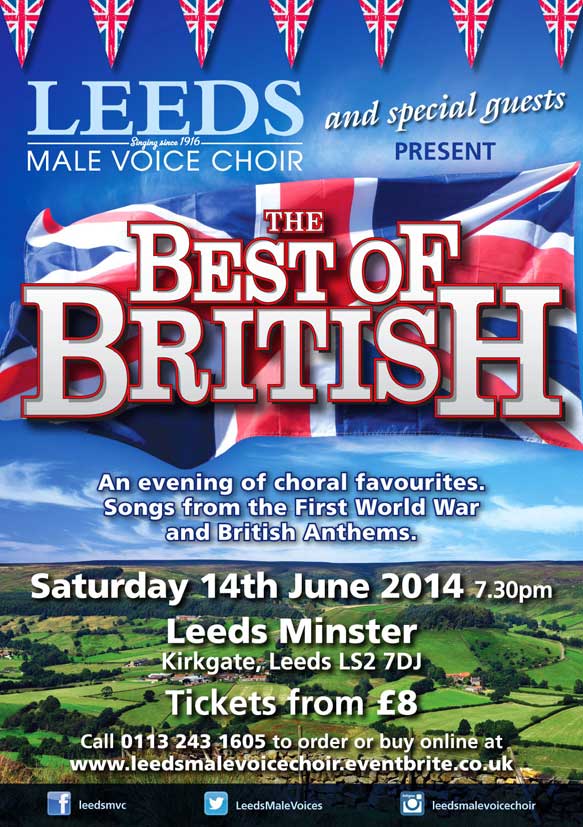 Leeds Male Voice Choir have been enjoying their most successful year in decades and are set to perform a spectacular British themed summer concert at Leeds Minster on Saturday 14 June.
The choir will mark the centenary of the First World War with a number of uplifting wartime songs alongside a series of rousing British favourites. The Director of Leeds Male Voice Choir Tim Knight explained "We were keen that our summer concert should be a celebratory affair. So we've planned musical tour of Great Britain alongside a commemorative look back to 1914 with a number of songs from the First World War".
In 2013 Leeds Male Voice Choir appealed for men to join a twelve week singing project for a charity concert in the city. As a result many new members decided to join the choir including some members signing up from the same family. Much of 2014 has been spent working hard on developing the sound of the enlarged choir some of whom are new to singing, but there has been time for a special appearance at the Ilkley Beer Festival in February. Rob Butler who convinced his brother to join the choir in 2013 said "I'm a local lad, so being able to sing in one of my favourite parts of Yorkshire was brilliant. Our performances of 'Ilkley Moor Bah'tat' brought down the house".
Formed in 1916 at Broom Colliery in Middleton in Leeds, the choir has been singing across Yorkshire and beyond for almost a century. With members aged 18 to 88 the choir covers a cross section of the city and has seen friendships develop across the generations. Rob explained "People can think of choirs as stuffy, but we are anything but. We're an inclusive group and there's a lot of camaraderie, we are work hard in rehearsals and have a few surprises in store when we perform at Leeds Minster".
Just weeks before Leeds celebrates hosting the Tour de France, the concert looks set to be a patriotic flag waving affair and will feature a host of special guests under the baton of award winning choral conductor and composer Tim Knight.
Tim says "The choir have been working hard and we have developed a real community feel with the singers growing in confidence with every week.  The enthusiasm is infectious and it's great to see how far the choir and the quality of sound has developped. We have a mixture of rousing British songs and intimate pieces with a spectacular 'Last Night of the Proms' style finale. It's going to be a fine evening in Leeds Minster!"
The Best of British concert takes place on Saturday 14 June at Leeds Minster on Kirkgate in Leeds at 7.30 and tickets are available via www.leedsmalevoicechoir.eventbrite.co.uk or by telephoning 0113 2431605