Michael Tattersall, is no stranger to East Leeds Magazine. We've featured him on a number of occasions in the past. But if you're not familiar,  Michael is a 6th Dan in Shukokai Karate who founded Leeds Premier Karate club in 1990, which is now one of the oldest established and decorated martial arts clubs in the area.
After moving venues numerous times and spending the best part of fifteen years trying to find a permanent home for the club, he's finally achieved his goal and has taken up  residence on the first floor at number 401 Selby Road, next to the Brown Cow & Dragon pub.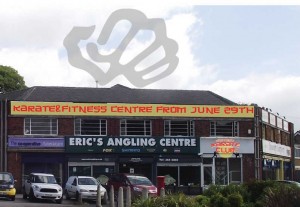 "It's great to finally get my own Dojo (term used for space to conduct martial arts training). It gives the club more stability, we lost a few students here and there after moving about through no fault of our own, so we hope to welcome back former students from the Leeds 15 area and beyond who might be   interested in taking up karate again. All our beginners classes are completely separate from the more experienced students and I'm looking forward to a whole new chapter now we have a permanent base."
 But no man can live on karate alone and with this in mind Michael will be using the extra space and available time to run a fitness centre, which will also include various classes as well as cardio vascular equipment such as treadmill, exercise bikes, cross trainers,  rowing machines and steppers.
"I feel there's a bit of a gap since East Leeds Leisure Centre closed down and when I first looked at this place I knew there was potential for much more than martial arts, so we will be welcoming other activities, whether it be fitness or community  orientated, for all age groups over the  next few weeks and months." The fitness centre will also be equipped with male and female changing facilities.  Michael is also backed by FIT 4 LIFE and the Temple Newsam Learning Partnership.
Karate Classes
Tuesdays & Thursdays 
Karate Kids (aged 3-6)  17.30 – 18.00
Junior Beginners (aged 7-12)  18.00 – 18.30
Junior Class (aged 7-12) 18.30 – 19.30
Senior Beginners (aged 13+) 19.30 – 20.00
Senior Class (aged 13+) 20.00 – 21.30
Michael welcomes any fitness or community groups who may be interested in renting floor space. For all enquiries call on
0113 3451420   07904 240 569.