Around the time Michael Tattersall was born, Carl Douglas was number one in the UK hit parade with his martial arts themed song 'Kung Fu Fighting.'
Fast forward a decade to 1983 and ten year old Michael  nagged his Dad to let him learn karate. At that time, it was a bit of a closed shop as far as juniors were concerned as it was considered a tough, violent adult sport and Michael was only allowed to join the class on condition his Dad also attended.
"I wasn't interested in more traditional sports such as football and rugby, I was fascinated by martial arts and when I was allowed to join the club I was one of only a handful of kids, everyone else was in their teens and adults."
Michael gained his first black belt at the tender age of fourteen and three years later in 1990 he founded Leeds Premier Karate Club which is now one of the longest established karate clubs in Leeds. In 1998, Michael was able to quit his job and concentrate solely on the Karate club and in the same year the club entered the UKASKO (United Kingdom All Styles Karate Organisation) governing body rankings for the first time.
"When I was learning Karate we used to go to competitions and I remember how everyone used to look up to the experienced black belts, who were like the first generation of senior instructors in the UK. Don't forget, martial arts was virtually unheard of here until the 1960's. They had mostly been trained by instructors coming over from Japan, so there was also a certain mystique attached to them. But I also  realised they were a bit intimidating for a lot of people and I realised a Karate Club was not just about the martial arts but about what the instructor can do to make the place welcoming and also interesting."
So rather than the well practised, standing in a line practising punching and blocking over and over again, Michael came up with more innovative ways to train.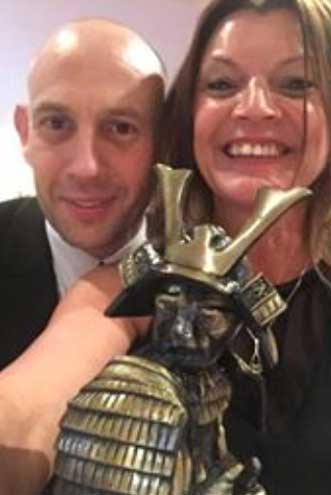 "I wanted a more modern slant on things, I didn't want people to be intimidated, especially youngsters. So I ran the club on the same ethics as the traditional ones but also tried to make it more inclusive and more entertaining so I could maintain their interest."
Throughout the nineties and into the noughties, Leeds Premier Karate club became successful, not only with people coming through the door but in competitions as well. The only fly in the ointment and one which impacts many martial arts clubs the length and breadth of the country, is the lack of it's own Dojo, or a place to call home.
"Due to the success of the club, I knew we could and should take the chance on our own Dojo but places of the right caliber and space at the right price proved difficult to find in East Leeds."
The chance finally came about three years ago when the perfect premises came up on Selby Road, opposite Whitkirk St.Mary's Church. After a major refurbishment, Leeds Premier Fitness Centre & Gym was born to run alongside Leeds Premier Karate.
"We had to put a lot of work in to get it right and as well as the Dojo, we've also incorporated a gym, a bar and function room, we also have dance, pilates and yoga classes, (non gym members welcome), so it's become a bit of a community hub although first and foremost, it's about the Karate."
Early March this year saw the annual Senior Instructors Dinner and Award Ceremony for UKASKO, which saw Michael and Leeds Premier Karate Club come out on top for the first time.
"It was a surprise, a privilege, and a reward for all the hard work I've not only put in myself but so have my family and friends. I never expected to be the number one club in the country all those years ago when I used to look in awe at the established instructors."
So, Leeds Premier Karate Club really is the Number One club in the country and the move to it's own Dojo on Selby Road has proved such a success, it's enabled the club to flourish to such an extent they added a new Saturday class a year ago to keep up with demand and have recently added a Monday class.
"We practise Shukokai Karate which is about harnessing the power and movement of the body, using techniques and timing to make you punch and kick to the maximum. It came about in the sixties and was the first martial art to use pads rather than kicking into thin air."
And if anyone needs a recommendation, then Michael's toughest critics, wife Wendy, son Adam and daughter Amy all train at the club, with Adam aged 14, already a black belt for three years, Amy (10 years) taking her black belt grading in June & Wendy going for the last tab on her brown belt.
After Kung Fu Fighting, Carl Douglas pretty much disappeared from the UK music scene, forever to be classed as a novelty hit. Now in it's 27th year, Leeds Premier Karate Club has stood the test of time and as long as Michael is at the helm, they definitely won't be a one hit wonder.
LEEDS PREMIER KARATE CLUB
401, Selby Road, Leeds, LS15 7AX
Chief Instructor:
Sensei Michael Tattersall. 6th Dan
0113 345 1420   0790 424 0569
Tuesday & Thursday
17:00 – 17:30 Karate Kids (3-6 years)
17:30 – 18:00 Junior beginners (7-12 yrs)
18:00 – 19:00 Junior class One (7-12 yrs)
yellow belt and above)
19.00 – 20.00 Junior class Two (7-12 years
yellow belt and above)
20.00 -21.30  Senior Class
Monday
17:00 – 17:30 Karate Kids (3-6 years)
17:30 – 18:00 Junior beginners (7 years- 12 yrs)
18:00 – 19:00 Junior Class (7-12 yrs yellow belt and above)
Saturday
10:00 – 10:30 Karate Kids (3-6 years)
10:30 – 11:00 Junior beginners (7-12 yrs)
11:00 – 12:00 Junior Class (7-12 yrs, yellow belt and above)
Prices per single session; £3 juniors £5 adults
for Monday & Saturday.
Monthly membership for Tuesday &
Thursday's from £22 per month*.