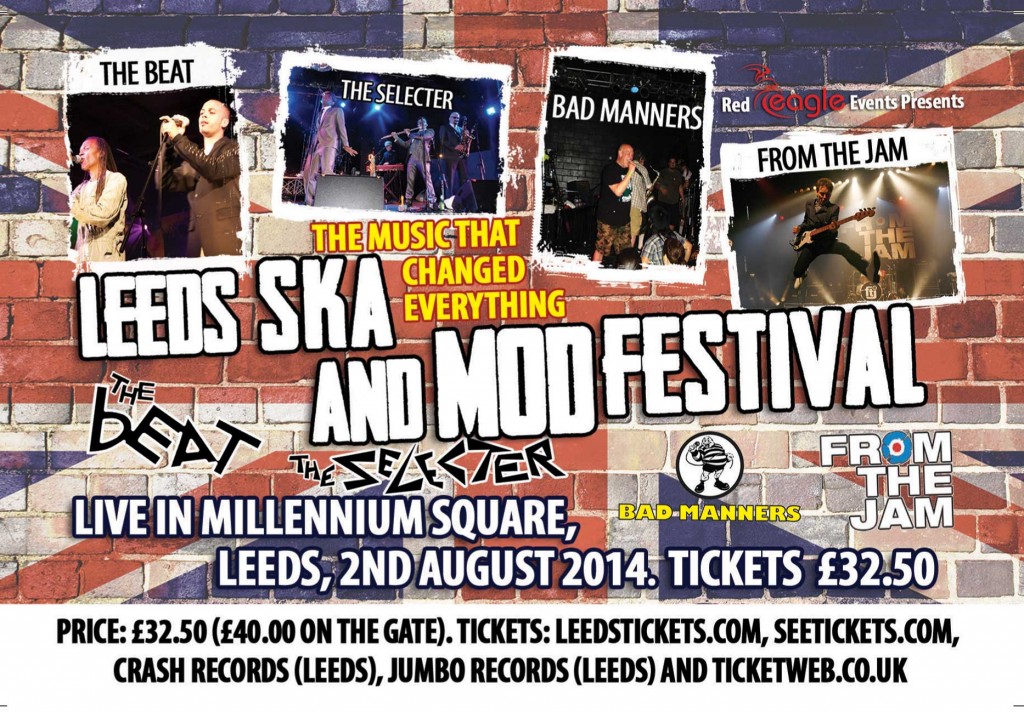 Leeds Ska and Mod Festival The Music that changed everything!
Playing for the first time together, Red Eagle Events brings you four of the biggest Mod and Ska Bands in the UK.
At: Millenium Square, LEEDS on August 2nd 2014.
Featured bands:
From the Jam, fronted by one of the original Modfathers Bruce Foxton, hits include: A Town Called Malice
The Beat fronted by Ranking Roger and Ranking Jr, hits include: Tears of a Clown
Bad Manners fronted by Buster bloodvessel, hits include: Special Brew
The Selecter fronted by Gaps Hendrickson and the one and only Pauline Black, hits include "On My Radio".
 Ska is a music genre that originated in Jamaica in the late 1950s, and was the precursor to rocksteady and reggae. Ska combined elements of Caribbean mento and Calypso with American Jazz and Rhythm and Blues. It is characterised by a walking bass line accented with rhythms on the upbeat. In the early 1960s, Ska was the dominant music genre of Jamaica and was popular with British Mods.
Music historians typically divide the history of Ska into three periods: the original Jamaican scene of the 1960s (First Wave); the English 2 Tone Ska revival of the late 1970s (Second Wave); and the third wave of the Ska movement which started in the 1980s (Third Wave) and rose to popularity in the US in the 1990s.
Mods, initially a small group of clothes-focused 1950s working class young men insisted on clothes and shoes tailored to their style, which emerged during the Jazz boom. Early mods watched French and Italian art films and read Italian magazines to look for style ideas. By the summer of 1966, the mod scene was in sharp decline but a Mod revival started in the late 1970s in the United Kingdom. Thousands of Mod revivalists attended scooter rallies in locations such as Scarborough and the Isle of Wight. This revival was partly inspired by the 1979 film Quadrophenia and by Mod-influenced bands such as The Jam, who drew on the energy of New Wave music.
The British Mod revival was followed by a revival in North America in the early 1980s, particularly in Southern California, led by bands such as The Untouchables. The mod scene in Los Angeles and Orange County was partly influenced by the 2 Tone Ska revival in England, and was unique in its racial diversity, with black, white, Hispanic and Asian participants. The 1990s Britpop scene featured noticeable Mod influences on bands such as Oasis, Blur, Ocean Colour Scene and The Verve.
From the Jam, The Beat, The Selecter & Bad Manners are all UK Ska & Mod bands who have seen decades in the music industry racking up many top 10 hits!
So join us and let's make history!
Under 15s must be accompanied by an adult.
VENUE: MILLENNIUM SQUARE, LEEDS
DOORS: 
SHOW STARTS AT 17:45pm
CURFEW: 
PRICE(S): ADVANCE PRICE £35.00 – ALL PRICES INCLUDE BOOKING FEE OF £2.50 PER TICKET
AGE: NO AGE RESTRICTION