Luke Lyons may only be the tender age of 16 but hopefully he has a bright future ahead of him. A pupil at Corpus Christie, Luke started playing football by just kicking a ball about with his Dad before joining Colton Juniors when he was eight. Around the same time he joined Man City's elite squad at Thomas Danby college before his Dad paid £25 for a coaching day at Thorpe Arch.
Luke must have done something to impress and he was offered a six week trial, which meant training three times a week and he also played in three matches. A two year contract followed which was renewed and recently he was offered a scholarship, which is a modern day apprenticeship and will take him to the age of eighteen. Always tall for his age Luke began as a striker before he assumed what has become his natural position as centre back and he seems to have settled into the role very well.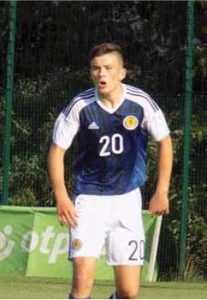 Luke is still at school and with his GCSE's looming, he's already got a lot on his plate but he finds his way over to Thorpe Park on a Monday and Tuesday night, all day Thursday and then of course matches on a Saturday morning. Modest and unassuming, he was happy to let his Dad Barry, a former goal keeper for Halton Moor Social do the talking.
"I've lost count of how many appearances Luke has made for the academy, he's played for older age groups as well as his own age group but he'd play every day if they'd let him."
Already over six feet tall, as well as been naturally good in the air, Luke has a couple of other strings to his bow.
"He's developed a strong sense of leadership, which is something that's come about in the last couple of years. The academy has given him untold confidence but there's also a bit of an old fashioned sweeper about him when he looks up and brings the ball out of defence." He's also received an international call-up but not the obvious one for an East Leeds lad..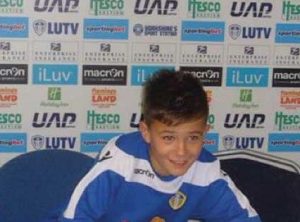 "His Granddad's Scottish and he had to put which countries he was able to represent when signing forms with Leeds. We were all surprised when Scott Gemmill called him up but he wasn't going to say no."
So last summer Luke travelled to Hungary with the Scotland under 17's and represented them in the Telki Cup which is an annual tournament held just outside Budapest. But despite this, Luke has no intentions to go north of the border to peruse his career.
"I'm a Leeds lad, a passionate Leeds supporter, I was a ball boy for three years, now I get tickets to watch the first team and when I see them run out in front of 20,000 or so supporters, it makes me want it even more and I can't wait to hopefully make my debut."
Like any up and coming sportsperson, it's vital to have parental support, Mum Danielle bursts with pride talking about his football, Dad Barry reflects on the best £25 he's ever spent and is sure Luke will go all the way.
But if he does, we had one more awkward question..If it came to full international honours, would it be England or Scotland?
"I think he'd take Scotland over England, just because they came first. But it's step by step if Luke does well at Leeds, the rest will follow."