Andrew Brogden originally hails from over the Pennines in Preston but we'll forgive him for that as he's upped sticks and lives in Whitkirk now. After spending a number of injury hit years on the books of Preston North End he developed an interest in physiotherapy and eventually graduated with honours at Bradford University whilst playing semi-pro football for Skemersdale United.
"I'd picked up a fair bit of knowledge on the physios couch, so when the football didn't quite work out, it just seemed a natural thing to do." After qualifying Andy began his career as a physio with Leeds NHS. He still works for the NHS but also runs his own mobile practice which basically aims to fill the void the NHS can't cover.
"As a mobile physio, it means I can see people in the comfort of their own homes at convenient times for them. Most people I see as an NHS physio have to either take holiday or unpaid time from work, so there's a big advantage there.  To me the aim of Modern Physio is to improve a person's quality of life by restoring, maintaining and improving function and movement. I can create goals and individual treatment plans which can be both hands on or exercise based."
There's no waiting list with Andy, he can usually see you within 48 hours and he can work in partnership with your GP.
"I have worked for Morley and Otley Rugby Union teams as their physio and have recently extended my training by undertaking a sports massage course. This is good for anyone whois active in sport, whether it's a marathon runner who has constant aches and pains or the slight niggle a footballer might feel after a game."
The MODern Physio tag isn't meant to exclude anyone. He deals with all walks of life from the young to the elderly and promotes physical approaches to health, wellbeing and illness prevention through delivery of high quality care.
"The MODern name comes from the fact I didn't want to go down the typical physio route of having a logo of someone holding their back. I was always interested in the mod scene through my parents, apart from the music I liked the imagery surrounding it, I love all the geometrical patterning, hence the logo."
So rest assured, whether you're a pensioner with a bad back, a boxer with shoulder pain or even if your an old biker whose come off his Harley, Andy will still be on hand to help out!
See Andys Promotional MODern Physio video here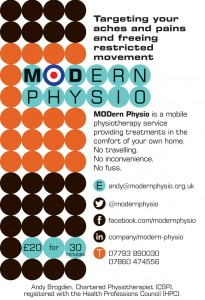 andy@modernphysio.org.uk                                                                                                                                                    Tel: 07793 8900 30    07860 474 556                                                                                                           twitter@modernphysio   

facebook.com/modernphysio