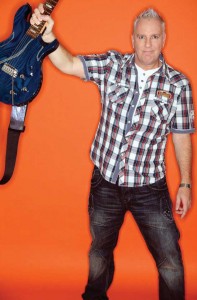 When I was about 7 years old, I picked up an old acoustic guitar and moved the pegs, tuning the instrument to "Open E". I had unknowingly discovered my "musical ear" and my musical adventure had begun.
I had to re-learn a lot of the fingering later on when the time came to tune conventionally, but on the plus side it meant I had concocted many odd chord shapes and scales which along with an exceptional musical ear, helped to set me apart from other guitar players.
In 1976, thanks to my dear mum, I got my first electric guitar and met up with Leeds lad – Mick Lake. We soon had a band and started writing simple songs and playing regularly to friends and parties.
It was at this point that I first ventured into recording and production. Only in a small way, using the very limited technology available at the time, (my dad's 4 track reel-to-reel) but recording and production were something that would stick with me for the rest of my life.
Later, I used to get great enjoyment from recording local Leeds bands and helping them get a good sound and arrange their songs.  I often played guitar, bass or drums on their demos, sometimes suggesting new parts and enhancements to their songs. This is the role of a Producer but I didn't know that at the time.
A big change to my outlook on music happened when meeting Leeds based keyboard player Tim Lofthouse. Tim's musical style was very different to mine but we soon realised that we had a lot to offer each other. To this day I have never met a finer keyboard player and I have worked with many.
Tim was a wizard with chord progressions and timing and I was rock-man who could sing and play. Our drummer, Andy Jones also from Leeds was primarily a jazz player. The combination of all this gave us a very unique sound; like Deep Purple crossed with Coliseum II. We played our first gig at St Mary's Club in Whitkirk to a packed house and we loved it! Our band "Viper" had a great following throughout Yorkshire. We often played alongside well known acts, like Marillion and Limelight. We performed at some big events and famous venues like The Cavern, The Marquee Club and of course The Fforde Grene and Hadden Hall in Leeds were regular haunts. We visited the studio a few times and I realised that I enjoyed the recording side almost as much as performing live.  
In 1986 I was introduced to the Working Men's Club scene. I teamed up with my old friend and bass player from Leeds, Alan Dawson. We travelled around playing other people's songs (covers), to audiences who were mostly only there for the Bingo. But doing covers did have one huge plus point… We got paid. Also, learning other people's songs and music did give me a great insight into how to construct and arrange a good song, which is something a lot of musicians can struggle with.
Eventually this job took me to Dubai where I stayed for the next 15 years. Dubai is a great place for entertainers. There are some lovely venues there. In Dubai I worked as Entertainment Manager while still performing regularly. Booking bands and organising events. I also did a lot of teaching, song-writing and studio session work in my spare time.
I worked with some very talented people from all over the world. Bass player / vocalist Rick Thompson from Canada, Leeds based guitar/keyboard players Pat MacDonald and Pete Neville, Bermudian keyboard player / vocalist Jon Paradine and Tasmanians Greg Frith on Sax and Stephen Marskell on drums. And also not forgetting Leeds based bass player Paul Twohig who now runs Pro Two Studios in Castleford, one of the finest studios in Yorkshire.
Whilst in Dubai, I ran a Rock School with a good friend of mine, drummer Alan Cunningham who originally played with Sad Café and some other big names and at the time was in my band in Dubai with his wife Donna singing. We would get groups of students to choose a song together and show them all the aspects of putting together a performance. Great fun for all of us. Alan and Donna are still in Dubai and are doing deservedly very well.
My wife Carol and I arrived back in England in 2002 and I soon began remixing dance music as part of production team "Riffs & Rays" with Jason Havenhand and Dave Dennison, both Yorkshire lads.  We had some chart success and some great times. We made a number 9 hit for Inaya Day with Nasty Girl and got on Top Of The Pops in 2005. We also played some great live events. But in the end, remixing, to me was almost the same as doing covers and I really wanted to be working on my own music and material.
This was what brought me back to writing and composing and I have been lucky enough to get some great jobs in film television and advertising. Plus I have been working for some well-known music libraries.
The tools available to the composer today are amazing. For example, it is possible to get some very realistic sounding orchestral pieces (check out my SoundCloud), which will often be used as a "mock up" for the real film orchestra to perform but sometimes will be used "as is".
Also with the advent of hi-speed internet, the world has become very small for musicians. It is now easily possible to do session work for a studio at the other side of the world instead of having to fly there, (although I do miss the flying sometimes).
I still enjoy teaching. My AxeSkillz project aims to make learning guitar, bass and production techniques interesting for people of all ages and skill levels. I really enjoy sharing my knowledge of not only how to play but also how to write, record, produce and perform.
With the use of today's technology I can easily record a student and help them arrange their composition and then get their song available to purchase on iTunes. It is a very simple and enjoyable process for the students too. I also enjoy doing tutorial videos and walk-throughs which go on to my YouTube Channel.
Seeing someone that you have taught get totally amazed by their own great results is a fantastic feeling and something I will always enjoy.
The adventure continues…