Neon Dolls – Introducing
Some of you might be more familiar with Tom Axe if he was advising you on the best type of washer to buy as part of his sales job with EHS on Austhorpe Road. But when he's not selling washers, Tom blasts out vocals for local band Neon Dolls.
Since forming about three years ago, Neon Dolls have been busy perfecting their hybrid of muscular Britpop and shoutalong punk vocals and blowing away audiences throughout West Yorkshire and beyond.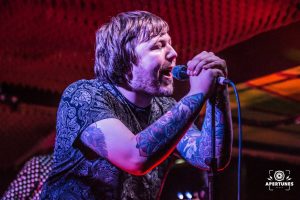 Formed from the remnants of various defunct Leeds bands, the boys quickly developed a sonic formula influenced by Northern guitar greats Oasis and The Stone Roses as well as more recent hardcore and grunge bands from the USA. But to pigeon hole them as an Oasis or Nirvana copy band is doing the lads an injustice, there are many much more varied influences shoe horned in to the Neon Dolls sound, everything from Stiff Little Fingers to Velvet Underground with a helping hand from Creedence Clearwater Revival.
They've already released two quite different sounding albums, the first 'Imperial' released May 2014 was recorded when the band had only been together a matter of months and shows a raw quality, the second, last years 'When it Strikes' sees a more expansive sound without betraying the spirit of their first offering.
Tom takes up the story:
"Our original bass player Daimo Moore introduced us all to each other although he later moved on to different things. We replaced him with our resident Argentinian Fernando Manresa who originally hails from Buenos Aires but now lives in Crossgates. The rest of the lads are a bit more conventional, most of us are from round this end of Leeds."
Although Tom pens the lyrics, but the musical arrangement is generally a collective effort. Drummer Mick Jarvis, guitarists Sean Hatherley and Leam Hayes as well as Tom and Fernando all have equal status and input in the band.
"I find it a lot easier for ideas to fall in my head when I have a subject ready, before we get round to adding the music. We've written some of our best songs in 20 minutes that way, when you just hit a roll. Adversely I've written some right crap and it's taken hours to do it!"
Neon Dolls are currently lining up another tour and have an EP coming out on 9th September which will be launched at the Brudenell Social Club, if you can't wait that long, they're playing an acoustic set on 23rd June at Chapel FM on York Road.
You can check the band out at any of the links below.