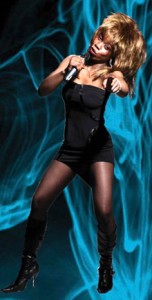 We've dragged this up from 2011. X Factor contestant Bupsi in her former life as a Tina Turner tribute act.
In the nicest possible way, Niqi Brown has been about a bit. The singer, songwriter and entertainer has toured as backing singer for Edwin Starr, Martha Reeves, Freda Payne, Mary Wilson, and teamed up with Corrine Baily Rae to back Hot Chocolate's Errol Brown. As a solo act she's supported Destiny's Child, The Wailers, Damage, 112 and Madness. Niqi tells us all about it in her own words…
"I was brought up in the church from a very small age, both my mum and dad were involved in a singing group or part of the gospel choir.  My first public performance was in church as part of a group with my sister and two other friends, we rehearsed  and performed it.. It felt great! I must have been 9-10.
In early years of high school,  me and my friends used to meet up during lunch, we used to sing for fun,  experimenting with different harmonies, the dinner ladies used to comment on how good we were, but we didn't take it too seriously, (they were dinner ladies, after all), but as time went by we started to get a lot of comments off friends too, which started to make me think a bit. It was only a matter of time before we were asked to perform in front of the whole school. We did, I was nervous I won't lie, but once I opened my mouth to sing I was in my own little world.  It was such a wonderful feeling and my confidence grew. We became well known locally, we were always sat on a wall somewhere in the streets just singing away …my local community knew me as Niqi the singer, or dancer.
I then met a local producer called Joe, he had a small recording studio where we would go sing and record music. Joe encouraged me to write my first song, It wasn't long before I was asked to perform at the Leeds carnival. I jumped at the chance. I started meeting more people who lived and breathed music. I went on to session singing, and writing songs for publishing companies and library music. This was a different level, you had to deliver the goods, and quickly.  This was paid work.
I was then lucky enough to be introduced to Edwin Starr and I became backing singer for him, which led on to me supplying backing vocals and touring for the likes of Mary Wilson, Martha Reeves and Freda Payne. It was a magical period in my life and I treasure every memory. On the tour, Martha Reeves adopted me as her baby. The day before the tour started it was my grandmother's funeral. I didn't have time to grieve and I was hurting so much, but I knew I had a job to do and Martha was a comfort to me. She had so many stories to share, advice to give and I sat there in amazement as she just sung to me in her room, I felt so so blessed.
After working with Edwin for over a year I decided I had to see what I could do for 'me'. I wrote, recorded and performed my own songs with dancers, backing singers, musicians, (Corrine Bailey Rae's late husband was also playing trumpet with his amazing  Buddies. It was all about me doing what I truly loved. I made the papers a few times. By gum! I was on cloud nine and I continue to write music, sing and perform for various bands, soul, reggae etc.
Now my mum – my hero and friend – has always believed in me. She has always supported me even through tough times and encouraged me from the very beginning. She is such a loving soul, and helped me get on my feet with her last pennies, she always told me to pray; not to doubt myself and reminded me that I was given this gift for a reason; not to forget who I am; keep head strong and to go for it. My mum told me she could see me doing Tina Turner and suggested I should do a tribute to her. I replied: 'But Mum I don't sound anything like her.'  Mum said: 'Niqi I can hear you doing Tina girl!' My mum helped me get my PA equipment and costumes to get the ball rolling. So Mum: 'I can't thank you enough (but can you still lend me a fiver?')
Now people ask me all the time – Do you practice? I bet you spent ages studying those moves. But I kid you not! I rehearsed two or three weeks, watched the film and before I knew it I did a showcase with a few backing dancers, and seven years later I'm still loving it! I can relate to Tina Turner, and when I'm singing those songs I feel Tina's fighting spirit in my bones. She is a powerhouse, an inspiration and such a strong beautiful woman.  I think many of us love a bit of Tina Turner.
I'm still on my journey, still in love with music, and very much looking forward to getting out there as Niqi Brown. So watch this space folks I'm getting close! I can feel it in me waters. Thanks for reading…"
Niqi