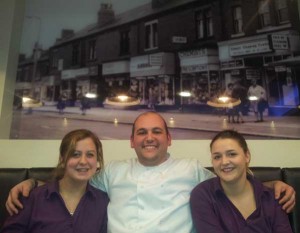 Oceans Fish Restaurant has been open a couple of months now and it's been a sure but steady flow for existing staff of Anna, Emily, Rachell and Laura who have recently been joined by Maggie.
"We were all a bit nervous when we opened but it's gone great,  it's nice to actually get the time to talk with customers while they're sat down and taking it easy as opposed to hurrying to get home with their tea under their arms!  We've had a good mix of all ages and have started to get a few regulars in. I'd like to give a special mention to the UBU charity group who have started to come here every Tuesday now. It's been great finding out about the work they do to encourage independent living."
Whilst the usual 'set menu' of freshly prepared fish & chips with bread and a cuppa has become an Oceans staple The new dishes of plaice and salmon fish cakes have been really well received and the calamari in breadcrumbs is delicious with a bit of lemon. Although George was a little bit worried at first.
"The calamari seems to have gone down especially well, we didn't sell any in the beginning and I thought it wasn't going to take off but then after we sold one the rest followed. We've also sold a lot of the 'Oceans Catch' which is scampi, calamari and haddock, served with tartar sauce."
The early 1960's picture has become a topic of many a nostalgic conversation and Oceans have also added a ramp facilitiy (on request) which now makes wheel chair access possible and also early next year they're adding gluten free to the menu. They've also set up an Oceans page on facebook.
Whether a quick lunch or a more relaxed evening meal, Oceans is developing into an easy going, friendly fish restaurant and one thing is for sure..you won't go home hungry!