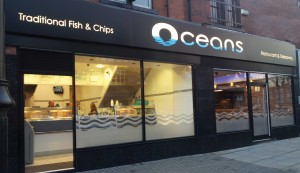 Another issue, another birthday. This time it's the Cross Gates Fish Bar coming up to their fortieth.  To celebrate it's undergoing a face lift which incorporates a new fish restaurant and a rebrand which will see a name change to Oceans.
Proprietors, the Michael family are well known in the area, Perry and Effie opened the shop all those years ago and living above the shop as well as working in it, they soon immersed themselves in the local community. They had three sons, Michael, Stratis and George. Perry and Effie passed the er batter to George a few years ago and are slowly stepping into retirement. George took time out to look back a little and tell us about the exciting new developments.
"The generation before us took great pride and care in it's food and service and Oceans is simply continuing this, combining years of tradition,  experience and using fresh quality produce. We guarantee we will continue to be a firm favourite in the local area and beyond. "
Over the course of the last forty years, Cross Gates like every where else has seen changesnot only in people & businesses coming and going but in the way in which we eat.
"When my parents opened there were a lot more fish and chip shops about although a lot less takeaways and even less restaurants. At the time, a few people reckoned they wouldn't last six months and as more takeaways opened, a lot of chippy's fell by the way side. We had to move with the times, bringing in new lines. Rebranding the shop and opening the restaurant is an extension of this. Can I just mention the kebabs. I understand facebook has gone into meltdown about us stopping selling them. We brought them in a fifteen years ago and they've become very popular. However, recently the wholesale cost has increased quite a lot, to the degree they were no longer viable without a large increase in price. We didn't want to compromise on the quality and with the fish restaurant opening, we just wanted to concentrate on perfecting the fish and chips."
George is keen to see the local area on the up and there's a certain pride in the area where he works. Indeed, taking centre stage in the new restaurant will be a large picture of Austhorpe Road in the early 1960's.
"I see Crossgates as an up and coming area. It's a vibrant place which has been good to my family. I hope the fish restaurant will help bring people to the area and who knows, if it results in them coming back and trying one of the other eateries around, then that can only be good for everyone. A few businesses have already invested in the area, notably Wilsons and the shopping centre and I thought it would be nice to complement that with a first class fish    restaurant. I guess we're aiming for traditional with a dash of modern flair. There's been no expense spared on the restaurant and as well as sitting down to traditional fish and chips with bread, butter and a nice cup of tea or coffee, we really want to offer good variety.  We'll have fresh calamari with tartare sauce, salmon fish cakes, scampi and plaice among other things. Our haddock will be the standard 5oz, the 'special' 8oz and a 16oz we'll be calling the 'Oceans Giant!'
We've some delicious starters and a dessert menu which includes some nice traditional sponge pudding and also whipped ice cream plus you can round it off with a 'Bean to Cup' specially ground coffee, cappuccino, latte, mocha or espresso. We've also applied for a license to serve alcohol with meals and we'll be doing pensioners specials. We've also fitted the restaurant with disabled facilities and it will be fully air conditioned."
George is proud to run an ethical business and only buys fish from sustainable waters, which happens to be Icelandic at the moment. Despite the increase in the price of haddock he's reluctant to replace it with a cheaper fish as a staple, although there are alternatives available.
"The restaurant will be open Monday to Saturday 11am until about 9.30pm and 10.30 on a Friday, so whether it's a quick sit down lunch, a more leisurely evening meal or a family occasion, we aim to provide good food in a good, easy going atmosphere."
George's brother Stratis runs a fish and chip shop and most of his cousins run various chippys throughout the UK. And carrying on with keeping it in the family, Anna, George's wife is going to be there to manage Oceans Restaurant, alongside her sister Emily who has a great deal of experience in the catering industry.
"We have 2 little boys. Perry 3½ & Theo who is 16 months old so I have been busy being a stay at home mum and helping out at the takeaway when possible." says Anna.
"We have a great group of girls and will be working well as a team to make the atmosphere of Oceans a warm welcoming place for everyone.
Sandra who has been working with us for many years will still be with us. She has been a great lady to work with and has seen the business go from strength to strength over the years. We've seen girls come and go but Sandra has always been there & we appreciate all her hard work and effort she puts into her job and are pleased that she is moving on with us."
Click here to 'sea'  Oceans Promotional Video