Standing resolutely in Crossgates Methodist Church is a 1930's organ, originally built in Leeds which wears the proud name of Wood Wordsworth & Co, an organ manufacturer which dates back to 1866. Sadly, as church organists are quite difficult to find these days, by and large the church has to rely on 'piped music' these days as this magnificent piped organ sits mournfully watching on.
However from February through to May, the organ will be brought to life in a series of concerts performed by some well known names on the organ playing circuit.
David Leeming, who tries to keep the church and church hall ship shape and Lynda Robinson, general all round fund raiser explained all.
"We don't profess to be any kind of experts regarding piped organs but we had heard of quite a few churches throughout the region putting concerts on and we thought it might be a good idea to bring some to Crossgates."
Now, it might not be everyone's cup of tea but these types of organs do have a niche following in the way you could say steam trains have.
"There are people you could describe as hobbyists who like to see and hear the different styles of organs and also the organists who are still about are often keen to try experience different makes. This one has orchestral stops which can change the sound through the bellows which are underneath and pump the sound up throughout the pipes."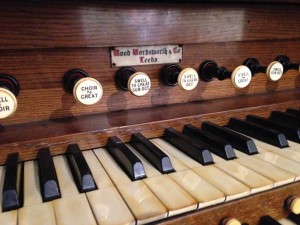 Concert Schedule
Wednesday 4th February 2015
Chris Denton – St.Mary's Church Burley in Wharfedale
Leeds born organist who is currently Director of Music at St.Mary's. He studied music at university in Brighton and has been assistant organist at both Chichester and Ripon Catherdral. Has also toured with choirs throughout USA and Europe.
Wednesday 4th March 2015
Matthew Lazenby – St.Martin's Church Potternewton
Matthew began playing the piano aged seven and graduated in music at Leeds University last year. Currently teaches and is the organist ar St.MArtin's in Potternewton and Choral Director at All Saints', Newton on Ouse.
Wednesday 1st April 2015
Paul Dewhurst – St.Giles Pontefract
Organist and director at Pontefract Parish Church. Previously had had held positions in London and his native East Anglia. He also spent a year working as Minister for Music at Grace Episcopal Church, Silver Spring, MD USA.
Wednesday 6th May 2015
Christopher Newton – St.Bartholomew's Armley
Manchester born Christpher has spent over half of his life in Yorkshire. He graduated in Chemistry in Manchester and currently works at the Careers Centre at Leeds University. Has a long association with St. Barts and recently recorded a CD on the Shulze organ.
All concerts begin with a light lunch at 12.30 before the concert at 1.15
Tickets are £5 per concert or £16 for the series. Phone Kath 0113 260 3614.
Please try and book in advance if possibly so we know how many to cater for.
For more concerts visit www.organrecitals.com