Plot on the Landscape
A quick chat with Sam Cogger
about strawberries & allotments
We all like strawberries in summer but they don't freeze too well, a good way to preserve them is to make jam. Sam Cogger has gone all 'Tom and Barbara' on us taking on an allotment, doing loads of digging, planting, growing and harvesting, she's even made her own jam – Sam's Jam.
"It was this time last year when I had the idea of taking up an Allotment. I had moved to Barwick in Elmet and with just having my family to sort and not much work, I had plenty of thyme on my hands (no pun intended!). So, I thought why not and it didn't take long for me to be bitten by the bug (not literally!). I can easily fit it around school runs and my day-to-day life and spending a morning at the plot I started to see real progress. So here I am into what is my first proper year of sowing and digging. It's an interesting journey into the unknown world from seed to plate."
And Sam's not just grown strawberries, her harvest over the past year has included gooseberries, red/ black currant, peas, courgettes, tomatoes and beetroot.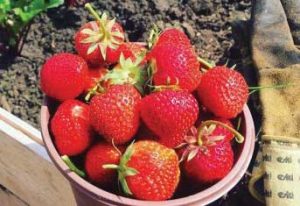 "Even though I seem to have the fruit growing in abundance anyone who has ever grown so much as a radish will know its's not instant gratification. It takes time a lot of hard graft, sweat (I sweat buckets) and perseverance. But when the fruits of your labour appear it makes all your hard work worth it. It seems people who are into allotment growing are all learning as they go along, after all it's not a race. Although you do get the odd "know it all" most people are happy to help each other. Sometimes I just plug my headphones in and get on with it, not that i'm being ignorant or anything its just I'd rather listen to some quality noise."
Sam's also got a pumpkin patch, with quite a few of the local kids relying on them for Halloween and there's some nice jacket potatoes on their way as well. But Sam's pride and joy just has to be her strawberries.
"Strawberries, YES I know I've become obsessed with the juicy fruit but if you had grown as many as me you would be smiling too. My Jam making skills are up there with the best these days – my family and friends love it and so do I, its totally natural and additive free apart from a batch I laced with Pimms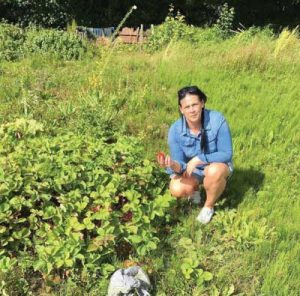 but that's my own private stash!"
Despite her relative inexperience, she's proving to be a firm believer in crop rotation. At the moment she's busy with her potatoes and peas and she's just harvested her beetroot.
"I have dug up all my Beetroot now, they grew really well, I was quite impressed, so was our pet rabbit who got the leaves. I pickled my beet with the root on, it was quite easy really, you just wash them, boil them for 30minutes then the skin just peels away, cut them up or leave whole and put in jars with pickling vinegar, juniper berries, a pinch of salt and black peppercorns, leave for a week then eat. Family and friends seem to call a lot more these days…I wonder why??….I might start charging…."
Sam's even set up her own blog 'A Plot on the Landscape' where you can follow her progress and even pick up a few tips.
"I've had an amazing response from my blog, someone even emailed me from New York. I've been asked gardening questions, sometimes I know, if I don't I'll do my research, it's nice to help and I've had some good advice myself. I never imagined I would be doing this when I was younger, I put up a trellis recently, took a step back and thought, did I do that? Anything is possible, planting seeds in compost and watching them grow day by day, amazing really, previously, I'd kill anything that had to be looked after in a pot but not since I got the allotment, I seem to have green fingers….who would of thought it…!?"