Plot On The Landscape–
Rhubarb,Manure and Jam.
It's one of the most enjoyable times of the year for Allotmenteers!…Planning for the year ahead thinking about new and different crops to grow, out with the old wizened up roots and on with the prep work. First stop manure as the soil will be warming up slightly so all the goodness will seep into the soil making it rich and a good foundation for your fruit and veg.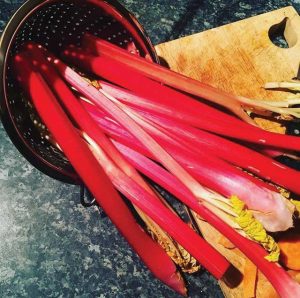 I still have Onions in and Elephant Garlic, which is making a good appearance and the Yorkshire Rhubarb is sprouting up at quite a quick pace…great stuff!
Rhubarb is a bit of a marmite veg, you either love it or hate it but it's very versatile and as well as jam, I'll be making Rhubarb Pie and Crumble, but I'll also be making rhubarb and ginger gin, (there I go with the alcohol again although this is for my own personal use.) It's my first time growing rhubarb and I'm hoping for a good crop as we're not far away from the world famous 'Rhubarb Triangle' so hopefully that will rub off on mine.
My son Louis doesn't seem too fond of it although it did prompt me to find some 'Roobarb and Custard' cartoons on You Tube, we used to love them when we were kids but I'm not sure if Louis is a bit old for them or they haven't aged too well,
either way he wasn't impressed with them.
The Elephant Garlic is really coming on strong, which is quite ironic as although it's much bigger than conventional garlic it's supposed to be much milder tasting which makes it ideal for cooking when you don't want the taste to be too overpowering. It's more closely related to the Leek than traditional Garlic, so I'll have to keep my eye on it as it's not too resistant to wet conditions.
But what I'm really waiting for is my Strawberries which will start to look like there is life in them by Spring,
then by June/July ready to pick. Not many will be eaten but put straight into my boiling pan for Sams Jam which seems to have
really taken off, with some folk eating it straight from the jar with a spoon – not even waiting for the toast to pop up..I think maybe it's got something to do with… well… the rather large amount of alcohol I put in it. (hic).
Have a look out for me this year, I'm hoping to be doing a lot of the local fairs and you might see Sams Jam in a few of the local shops.
Look out for my new Blog and Website coming soon, if you like to taste some of my boozy Jam I'd love to hear from you…. samsjam@sky.com