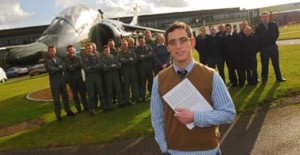 A newly formed choir of men from throughout Leeds is set to take Leeds Town Hall by storm on Sunday 13 October in a stunning gala  performance in aid of Help for Heroes.
Sing For Heroes! was launched by Leeds Male Voice Choir with the aim of taking a group of men with varying ranges of musical experience and turning them into a choir in12 weeks.
Award winning choral conductor Will Prideaux appealed for volunteers from across the city for a charity concert in the iconic Leeds Town Hall. He didn't care if they had sung all their lives in choirs    or just in the stands at Headingley stadium. All he wanted was enthusiasm and guys who were prepared to put in the work and raise money for a great cause.
As the Director Leeds and Peterborough Male Voice Choirs, Will has a lot of experience of helping men find their voice and bringing people together as a community. He explains "We created a  situation where men could come and try singing, get a warm welcome and not be judged. While some have found it naturally easy to sing, for others it has developed week by week. "
Will has been impressed with the hard work and dedication the choir has shown "The men of Leeds have really stepped up to the plate, and the reasons for joining have been varied." With over sixty men involved, some have travelled from as far as York and Bingley, some a little closer to home.
One of the singers, Jaimes Moran, who skateboards in each week from Seacroft said "I'm really enjoying it, we are being taught to sing and the social side of the choir is great. The lads are cool and rehearsals are a lot of fun and we're sounding better and better each week".
Jaimes and the other choir members rehearse every week over a three month period. Will explains things have come together fairly easily.
"There were a lot of guys who'd never sung at all so it was all about helping them find their voices and learning to sing together as a group. Week after week, the standard has been terrific."  
Throughout the rehearsal period he observed how the group has gelled together. "New friendships have been made and it has been great to see how the guys have supported one another.  It's shown a whole cross-section of men the buzz that people get from performing". 
The concert is raising money for Help for Heroes, a charity formed to help those who have been wounded in Britain's current conflicts.
Will notes "It's has given men an outlet, a cause, something to work together on."
As the concert approaches Will is working with the choir to polish the feature pieces of the concert. The men of Sing for Heroes will be joined by members of Peterborough and Leeds Male Voice Choirs with over 200 men performing. Will says "The concert in Leeds Town Hall is an iconic venue in Yorkshire and we are going to raise the roof! There will be something for everyone with a mix of chart hits, songs from musicals, operatic choruses and even some pieces with a special Yorkshire flavour".
The Sing for Heroes concert takes place on Sunday 13 October and tickets are available via www.leedsconcertseason.com by  telephoning the Leeds City Council Box Office on 0113  224 3801
For further details contact Robert Butler on 07810 402471
Facebook: facebook.com/sing4heroes
Twitter: @sing4heroes
Instagram:@sing4heroes