Charlie Beech is a twenty seven year old Rugby Union player who has recently signed a two year contract with Yorkshire Carnegie, following a six month loan period. His previous clubs include Northampton, Wasps and Bath and he has also represented England at five levels up to under-21.
Born in Stevenage but brought up in Bedford, Charlie is married to Heather and they have a son Jacob (age 5) and a daughter Fleur (aged 3) plus another on the way.
  "Signing for Carnegie was an easy decision to make, Heather is from the area and obviously the loan period helped a lot. We were renting then but signing a contract has given me a bit of security and we felt the time was right to buy our first family home."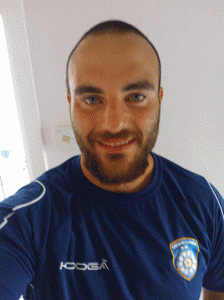 Following a recommendation from Carnegie's Director of Rugby Chris Gibson, Charlie and Heather met up with Andy Quinn at Response Mortgage Services Ltd and after their initial meeting, he began to look at the best options for a mortgage, solicitor and insurance.
  "I must admit I was expecting a stressful situation but ultimately all I had to do was sit down and answer questions and Andy and the Response team did everything for me. We are buying a new build and there has been a couple of delays with the builders but they've just taken everything in their stride and helped me out no end. The paper work was bible thick but Andy made it really simple, which is how he says it should be.
   From my point of view, I'm a bloke who makes his living getting his head kicked in,  so I didn't want complicated, I would use these guys again and recommend them without hesitation."
  Hopefully Charlie, Heather and family will be settled in their new home by the start of the Rugby Union season in September.
  "I love it up here, we get out to the Dales and the Lake District as often as we can, Heather has already shown me a lot of the county, it's a great place to be. From the rugby point of view, I can't wait to get
started. We're all set for a promotion push this season, Yorkshire Carnegie have changed their name from Leeds Carnegie but it's still the same great club with first class training facilities. We share them with the Rhinos and we all pull together to try and promote the city and sport in general."