Seacroft's Kobe Christopher has been Muay Thai Boxing for three and a half years now. After showing an interest in martial arts, a family friend knew the right person to go to and Kobe ended up at Dean Whites Gym  at "The Active Zone" Tingley.  Still only fifteen years old, he's already a veteran of fourteen inter-club fights and recently progressed onto the semi-pro circuit where he's won both of his fights.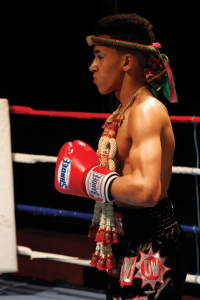 The inter-club fights often saw him pitched against older and more experienced opponents and although Kobe is a technically gifted fighter, he's quite capable of going toe to toe if needs be, indeed some of his fights have been described as brutal, but intimidation is not in his make-up and it does seem to have given him a good grounding for the future.
Kobe has fully immersed himself in the whole Muay Thai Boxing scene,  he makes the trip over to train three times a week but if he has a fight imminent, it's five times a week for a 6-7 week period plus running six days a week. Standing a ripped five feet ten, he currently fights at junior lightweight (59-60k) and even at his young age, it's a battle and a discipline to make the weight.
He's also embraced the spiritual and ceremonial side of the sport, right down to performing Wai Kru before fights, which is a Thai ritual about respect for your trainer and opponent. His next fight is on the 14th June at Maryport in Cumbria and there's also his first training camp in Pattaya, Thailand which Kobe is able to attend thanks to the generous                   sponsorship of Leeds Pallet Company.  Trained along with Dean by his son, 5x world champion & World games Gold medallist Bangkok 2003, Dale White, their gym has won ninety nine championship belts, Dean hopes Kobe will be his hundreth. "He's a young and talented fighter who is a pleasure to train, hopefully he will achieve big things."
Eighteen year old Sophie Varley lives down the road from Kobe. She started playing football ten years ago for Leeds City Vixens and after a few moves she ended up at Leeds United Ladies where she played in the reserves for two and a half seasons at open age level.
Sophie played about fifty games at centre midfield for Leeds. She likes to get forward and support the attack but she's not afraid to do the 'ugly' stuff as well and she's got into trouble with the referee on more than one occasion for  leaving her foot in.  
Recently a better opportunity presented itself at  Doncaster Rovers Belles FC who currently are the only Yorkshire club playing FAWSL (Football Association Womens Super League). A traditional giant of the ladies game, they currently find themselves in a transitional period which suites Sophie just fine.
"It's been good to get a fresh start,  I'm in the development squad at the moment but everyone is on an equal footing, so I feel I've a chance of progressing to the first team. My ambition is to play professional football and that means Super League but the way the game is developing it's all about being a box to box player and fitness is becoming as important as skill."
As part of this fitness, she's recently begun boxing training with our columnist Lee Murtagh.
"I've always liked boxing and I would love to experience the build up to a fight and getting in the ring on a regular basis, I don't see why the two can't work in tandem but for the moment football is the priority, I enjoy the boxing training and we'll just see what happens."
Last word on Sophie to Lee, "She trains here with a smile on her face, she's always laughing and joking no matter how hard the training.  I can see she has the 'edge' to her which she will need if she wants to progress but one thing is for sure, she won't get pushed around on the football field."