Regular readers will know this magazine likes to feature the odd obscure local band from days gone by so we sat down for a pint with Steve Speight who took us through a decade of high hopes and near misses from a band that really could have hit the big time.
Rouge or 2TV as they later became known formed sometime in 1977, a mish mash of pre-punk influences leaning heavily on the New York Dolls and Johnny Thunders but also looking back to rootsy 1950's Rock and Roll.
"The original line up was myself on guitar and vocals, Stuart Murray and Steve Gayle were on bass and drums and Steve Barass played lead guitar and backing vocals. We built up a massive following in East Leeds quite quickly, especially at the Staging Post where we almost became the band in residence, playing there and selling it out twice a week for about two years. It gave us the confidence to kick on and we played all over the UK including London where we played the legendary Dingwalls in Camden."

Like any up and coming band, it was important to get something on vinyl and they duly delivered releasing 'Have You Seen Gene?' a tribute to Gene Vincent on their own 1978 label with 'Hard to Rock and Roll' on the B side.
"We pressed 500 copies and they all sold out. About three years ago, I realised I didn't have a copy myself! My partner had a look on ebay and record collectors sites and ended up buying a copy but it cost her £100. I couldn't believe it was changing hands for that kind of money. I just thought I'd mention that in case someone has half a dozen copies in their loft or something!"
"In 1979, we had a bit of a rethink. We'd kind of fallen out with the name Rouge and as Punk and then New Wave took off in England, we wanted to ride the wave and try and get some of the attention similar bands to us were getting. Nowadays it's called re-branding, Squeeze did it, the Stranglers did it, Elvis Costello did it, they all hitched a ride on Punk and New Wave and we wanted to do the same. It's not like we went off and bleached our hair and stuck safety pins through our noses or anything but so many bands were signed on image, so the jeans got a little tighter and the hair a bit spikier. We changed our music style a little and Stuart left the band to be replaced by my brother Chris. Around the same time we got a new manager Richard Wakefield, the same bloke who managed Chrissie Hynde."
As a result of the new management, 2TV got support slots with the Pretenders, The Adverts, Girls School and XTC. They also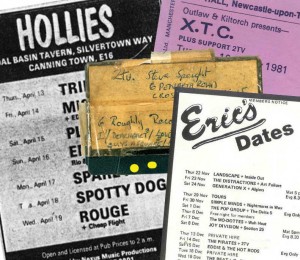 did a few John Peel sessions, however despite all the exposure, the record deal never came.
"It was a frustrating time, with all the live gigs and studio time, we'd improved no end as a band but nobody came and put pen to paper. Our personal manager and sound engineer Tich Brooks and then our lead guitarist Steve Barass both left within in a short period of time and we made the decision to cut back on the live gigs and try to concentrate on writing some new songs. Martin Raper came in on vocals in around 1985 and for a while he brought a new energy to the band. We had another change of image to go with the times."
They were then picked up by Guy Mute who was an A&R man for Sony. Studio time followed but again, it came to nothing and the band retreated back to Leeds, while Guy moved up the ladder at Sony, eventually ending up as head of A&R globally. They linked up with Graham Lee and Lee Walsh, local lads who had gained a degree of success with English Evenings which helped reinvent their sound again and the band started gigging again. And again, they were well received both by A&R men and the gig going public, but again nobody seemed prepared to sign them on the dotted line.

"By late '86, there was an element of burn out creeping in. Sometimes it was difficult to find the money to even keep the van on the road to get us to gigs, let alone make any money for ourselves. Our drummer left and we couldn't find another, it became really frustrating, we used a drum machine for a while but it was pretty soulless and the whole band was starting to become a bit of a chore."
By 1987 the whole Madchester and Acid house scene reared it's head and suddenly 2TV were outdated, both image and music wise. It was all getting a bit too much, the band were getting older and other commitments were starting to get in the way.
"We called it a day in late 1987, you have to have commitment to keep going and be with good people. The lack of drummer became so frustrating and we missed that dynamic. But still we had some great times and rode the crest of the new wave for a while. We'd put a lot into it for little financial return, but apart from that I look back on those ten years and there's not much I would change and I'm proud of what we achieved."