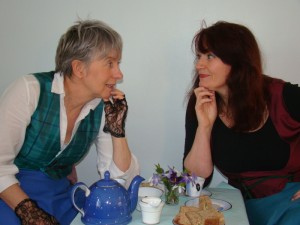 on Sat 21 & Sun 22 March
A Singing Weekend with the Blameless Hussies 
Old Seacroft Chapel, York Road, Leeds LS14 6JB
It's time to Sing for Spring at Chapel FM on Sat 21 and Sunday 22 March with a weekend of harmony singing in the company of Jenny Goodman and Sarah Harman, aka the brilliant unaccompanied harmony duo, the Blameless Hussies. Sarah and Jenny will use their unique style, lots of fun and encouragement to inspire people of all ages, abilities and voice types to take part in in any one or all three events across the weekend.
Jenny Goodman says: "We've been singing together for nearly 15 years combining many years teaching harmony singing and voice with skills as performers and song-writers. We teach entirely by ear which means literally anyone can find their voice with us in a supportive and fun atmosphere. We'll be encouraging everyone to share our philosophy of saying, or singing, what they think about the world while being completely blameless! Plus we're thrilled to be spending a whole weekend in the wonderfully historic and warm surroundings of Chapel FM and its brilliant facilities."
Adrian Sinclair, Heads Together Creative Director added: " Chapel FM offers a very  broad programme of events, training opportunities for all ages, performances and broadcasts and we're absolutely delighted that lots of people are asking us to arrange different types of singing events at Chapel FM. In addition to the Hussies, we have a weekly intergenerational singing group Open Voices and a fun, multi-sensory singing session, Tiny Tempo for the under 5s and their carers. Singing is such a major part of the Chapel's history – and really brings the building to life."
Sing For Spring Weekend Programme:
Saturday 21 March 
10am–4pm Sing A Capella
A day-long workshop of fabulous harmony singing for all. Learn a range of songs from around the world plus at least one Blameless Hussies song to share at the concert in the evening. No experience necessary.
7pm Blameless Hussies in concert
Join the Hussies and be initiated into their enticing philosophy of saying (or singing!) what you think about the world while being completely blameless! An intimate performance combining witty and serious songs about the woman's perspective on life, love, the injustices of the world, and the fight for freedom.
Sunday 22 March 
10am–4pm Performance Skills
The Hussies offer a space for any existing or aspiring performers to explore their voices and performance style. The workshop is for singers of any genre and will combine vocal technique with the opportunity to perform and get feedback in a supportive environment.
Pay what you can for both workshops and performances. Pre booking strongly advised as places limited. To book go to the eventbrite page: https://hussies.eventbrite.co.uk
or contact East Leeds FM on 0113 225 594
Ends
Contact: Shona Galletly PR on behalf of Heads Together Productions
m: 07813 796 733 e: shona@shonagalletlypr.co.uk (notes to editors below)