East Leeds man loses 5 & a Half Stone to become 'Man of the Year.'
New research by 'Slimming World' suggests that many men don't like to ask for help to manage their weight as they worry it looks weak – yet an East Leeds man, Christopher Irving, had the strength to look past that and has lost a brilliant five stone eight pounds in just eight months and has now been named Halton's Slimming Man of the Year 2016.
Like many men, Chris thought slimming clubs were aimed at women and assumed the focus would be on 'diet food' and talking about people's emotions. However he decided to give it a go after he saw what Slimming World had done for his sister. Fifty three year old Chris who originally hails from Belfast, explains.
"I hadn't seen my sister for a while due to work and generally modern life getting in the way. I was shocked at how well she looked, not only because of her weight loss but she also had a spring in her step and just seemed more confident."
The next step for Chris was to walk through the doors of Lucy's Slimming World class in Halton, no easy task for any man. But then as a former light middle weight boxer, Chris was up for the challenge.
"My fighting weight was eleven stone two, even after I retired from boxing due to a back injury, I still kept busy coaching. I started to put the weight on when my kids grew up and I wasn't running about after them any more! In the blink of an eye, my weight ballooned to twenty one stone. It took me a while to face up to it and admit to myself I needed to lose weight. I was terrified when I first arrived at Slimming World, all I could see through the glass door was a room full of women but Lucy came out and took me in, there were actually four other blokes there whom I hadn't seen through the door."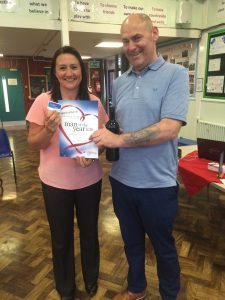 Once he's overcome his nerves, Chris was pleasantly surprised to find he support provided by the group was practical and the camaraderie and sense of competition appealed to him. He found he enjoyed following Slimming World's eating plan which is based on the science of satiety and energy density, enabling him to enjoy generous portions of healthy food to satisfy his appetite.
"I've realised now, far from been weak, asking for help takes a great deal of strength and getting the support from Lucy and the group has given me a sense of self confidence that's benefited every aspect of my life."
Chris, who is a TV extra, with credits for Happy Valley, DCI Banks, Shameless, Hollyoaks and a host of other Northern based drama to his name was also surprised at the reaction from his friends.
"I wasn

't sure what they would make of it but once they realised I could still have a beer, they started to show a bit of interest and when they saw me eating things like steak and homemade chips, chicken curry or a Sunday roast, they really sat up and payed attention, especially as they could see I was actually losing the weight." As the weight came off, Chris found he had more energy and was able to start to take more exercise.
"When I was at my heaviest I just wasn't fit enough to do any physical activity. Slimming World helped me to break it down into chunks and by starting small I managed to build up my activity step by step, initially just leaving the car behind and walking to classes to where he is now, back coaching boxing and rugby."
Lucy who runs Halton Slimming World added, "We're all immensely proud of Chris, he's done brilliant and made an amazing transformation. He's a real inspiration to the group and hopefully to other men who are looking to find the courage to join a slimming group."
The only downside for Chris has been losing out on some TV work as they were looking for continuity over a period of time. However on the upside a casting agency has put the 'new' Chris on an acting course which hopefully will lead to bigger roles in the future.