Meeting East Leeds Slimming World Consultants was spellbinding says Stephen Mulhern.
A group of Slimming World Consultants from East Leeds has got the magic touch when it comes to weight loss this New Year, according to TV presenter Stephen Mulhern.
The team, who run Slimming World groups in East Leeds, was delighted to get a chance to cuddle up to Stephen when he presented the annual Slimming World Awards. He co-hosted the event with the organisation's founder and chair Margaret Miles-Bramwell OBE.
Emma O'Reilly said meeting Stephen was a wonderful way to round off a great 12 months for Slimming World, as well as a brilliant way to get ready for another successful year: "We couldn't be prouder of our members. They've lost fantastic amounts of weight throughout 2016, with many of them making their weight loss dreams come true by hitting their target weight, improving their health and confidence, and more.
"It's so rewarding to see people being able to do things that they didn't think possible before losing weight, whether that's having more energy and confidence, wearing smaller clothes, taking up new hobbies, reducing medication or doing more with their family and friends. Every week we feel so lucky to play even a small part in people's achievements and we felt very honoured to represent our Slimming World groups when we met Stephen. He was bowled over by the difference Slimming World makes to people and how it changes their lives, so meeting him has re-inspired us and now we feel super motivated to support even more people in East Leeds to lead healthier, happier lives in 2017."
Stephen, who presents Catchphrase, Britain's Got More Talent and Big Star's Little Stars, said he was thrilled to meet the Slimming World Consultants at the event, which was held at Birmingham's International Convention Centre.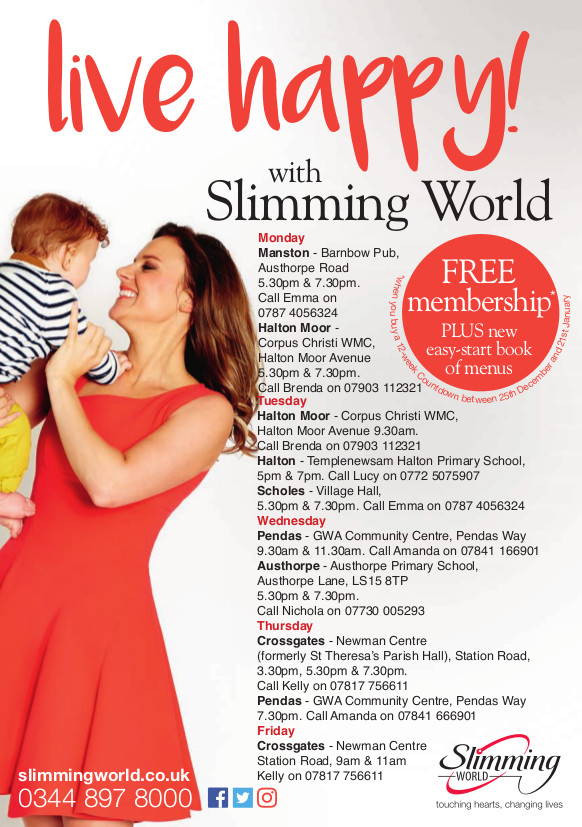 He added: "I'm known for my magic tricks and there was definitely magic in the air at the Slimming World Awards. The stories I heard from people who had lost amazing amounts of weight and transformed themselves – inside and out – were so inspirational. So many slimmers talked about how their weight loss has allowed them to start really living and be the people that they always dreamed of being – doing things they previously thought they couldn't, from running for miles to playing with their children and grandchildren.
"While all of their stories were different, the one thing they all had in common was how much they felt they owed to their 'Slimming World family'. Every one of them spoke passionately about how they felt that they couldn't have achieved everything they had or made the changes they have to eat more healthily and become more active without the support, advice and encouragement of their group each and every week. So the people who run the groups are clearly very important."
Kelly Fell says 2016 has been a big year for Slimming World, with the organisation welcoming hundreds of thousands of members and winning awards for both its food range and Slimming World magazine, and hopes 2017 will be just as successful.
"Lots of people will be making resolutions to lose weight and improve their health this New Year. I truly believe that joining a local Slimming World group is the best way for people to lose weight and learn new habits. Thanks to our Food Optimising eating plan they'll see big results on the scales without ever having to feel hungry or deprived, and they'll discover a whole world of support and advice that's sure to help them reach their targets – and have a lot of fun along the way, too! I'd love anyone who's thinking about losing weight this January to join us."