Sound and Vision – Pub Crawl up York Road
Hope your all well and still enjoying the articles. Let's all go on a pub crawl this month, I'm sure you'll enjoy that!
Starting with The Victoria, marketed as a live act venue plus a disco, a very large lounge and tap room, quite modern, one of the best pubs in Leeds for live music in its time.
You'll know it now as a pet shop, Paws for Thought! The pet shop owner Dale was a very good friend of mine, and also a DJ in his own right in the 80s. Always remember a couple of good old characters that went in there who worked for the gas board, one of them Dave Young, he was crazy about the Rolling Stones, to the state of when one of their records were played, he would pull his trousers down to reveal white tights and a ballet tutu! The people loved it, a laugh a minute! And of course with it being opposite the Irish Centre with many more pubs round East End Park, it was a very popular area.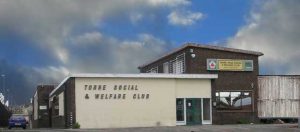 Up the road to the Eagle, just behind the Torre Road bus station, (now Polar Ford,) always full of bus drivers and clippys ( after their shifts obviously!) Remember a tale of three old regulars, in their later 70s, on a Wednesday evening when it was darts and dominoes night, old Dougie Thorpe, Arthur and Blind Billy who was in his 90s then. They told me they got barred from the Eagle for talking when the darts players were scoring; the scorer would shout "quiet please, game on!" As the darts went in the board, he'd shout " 5, 7, 11, 23 scored" ! The old lads shouted out we can kick em in better than that! And with that, the landlord said, come on lads out you go, your all barred!
Across the road, Torre Road social club, a venue with big star acts there at one point; Bernard Manning, the Grumble Weeds etc, very comical to see all the regulars all sat at the same table in the same seat, bingo dapper in one hand, money for their bingo cards in the other, you just can't fetch those days back.
Just before we leave East End Park and travel up the road, would like to give a mention to the lady at the Labour party office in Seacroft and her friends, all from East End Park back in the day, who look forward to reading the articles with a cuppa each month! Thanks girls, looks like I've got friends in high places! (Where were you when I lost my driving licence!)
Tuesday night, let's pop in the the Dog & Gun to see Ray and Caroline for the music quiz. Took a couple of pals as moral support, DJs John Rickell and Russ Harding and his partner Michelle. We would do the music quiz, not always win it, but it was handy as the DJ would go do the same music quiz in the Whinmoor on the following Monday evening – we would win that one outright! Naughty yet true! Ha ha!
Let's nip up the road for a swifty, The Melbourne, ended up a cavalier steak bar. Now of course, Halfords! Full of big drinkers, plenty of Irish and the local folk from Seacroft. Three walk through rooms with a centralised bar and a disco or the restaurant to the back of the pub. Been around the town a bit this pub; big public house, from a quiet pub to disco to restaurant and back again. Always remember coming out of this one and the boys in blue were there, "What you up to lad?" I explained just been working putting my stuff away, have you got any documents for that car, no I replied not with me, so he asked if I had a police record, on that of course I couldn't resist and said "Yes, Message in a Bottle and Roxanne!" Nice to see them with a sense of humour, had a smile and gave me a ticket to produce my documents.
Last of all, the Seacroft, which later became the Lion & Lamb. This is where I first picked a microphone up at 16! Stood in for the local DJ when he was on holiday and ended up getting two nights myself. Great memories here, run by Tom Bolioe. Always remember the glass collector here who was the coolest dude you'll ever know, Louie, Seacrofts very own Errol Brown (Lead singer of Hot Chocolate) ended up a very good friend of mine. Went on to become a landlord himself.
Seacroft centre next time for more memories and tales! Don't forget, I want to hear from you too, some pictures would also be great! Email me at jtmoody1958@gmail.com