Sound and Vision- Sedans, Shaftesbury and Rockys
John Moody takes us on a tour of 1970-80s East Leeds pubs where along with brothers Bill and Steve he Dj'd as Sound and Vison Mobile Disco
Hi Guys, here again, another month gone. So onto The Shaftesbury and The Compton, but first a mention for Wheels Discotheque/ Sedans (The Windmill Hotel, Seacroft).
Now this was a nice venue, over 21's only. Started in the York suite; a dinner and dance room. I did 3 half hour spots in between a dance band. I moved into the Discotheque as the manager asked me to cover for absent DJs – Wendy Peters, as in Radio Leeds Simon Peters wife and Graham Thornton the new voice of Radio Aire. One had a bad hair day, the other didn't want a bad day on Aire. So there I was in a classy nightspot, 2am finish, all good. Not so much hard men at the bar but playboys with a wad of pound notes – yes, pound notes! With a crowd of young girls around them they would spend, spend, spend the night away. I can see them now; two Billy's – one Young and one Moody, Eric (Wooley) and the Hedge brothers; Kevin, the absolute double of Only Fools and Horses Boyce, Mick and Paul who ran their own polystyrene packing company – the entrepreneurial James Bonds of their time with e-types and Mercedes parked in the car park. What a shame, a very nice club… Where have all these places gone!?!
So…. The Shaftesbury, adjacent to Harehills Lane and York Rd A64, another Tetley's venue; a big pub! Sadly to the ground now but lots of good times here. Landlady Cathy Simms, she gets about that lady. Bar/ cellar man Kevin Lockwood – any trouble and over the bar he'd come, bowl them over and throw them out! And then the funniest character of all I've ever seen work behind a bar, little Donald (where's my trousers, old red knees) so quick witted, very rude but hilarious and always had a mouth full for everyone!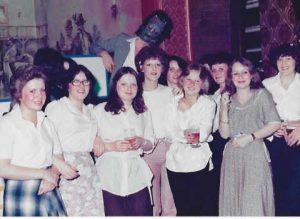 Back to the pub… sat in its own car park, big double fronted doors, bay windows to either side, into a very big lounge, bar to one side and to the other doors to concert room, bar to the left hand side as you walk in and at the other end of the room, a stage from wall to wall with DJ stand in the corner. No mobile disco here, a full light and sound installation all hanging from the ceiling on chrome tubing.
From drag queens on a Thursday evening, all taped up and tucked in; the most memorable Vicky Graham "Sisters Slim" to male balloon dancers on a Friday; pop a balloon and you never know what you might see – had to up my game with this one, so I did a ten minute horror show with all the comedy included and a four song Adam Ant mickey take amongst the usual chart, soul and Motown classics of the early 80s.
Talking about horror; a very strange request by a very smart suited cromby coated lad, he asked if he could be let out of a side door as getting hassle from some ruffians at the back. To my astonishment, I couldn't believe my eyes, a silver Volvo estate with long black windows, said he'd just called in for a quick pint before the last drop off at work. Open the back door, threw his cromby in and there he lay; his passenger – in a body bag!!! So off he went, obviously to the fridge! Talk about they're coming to take me away!
Night finishes at 10.30pm, time me and some of the staff go for a pint ourselves to The Compton-  Rocky's! Another purpose built pub that's been flattened to the ground, what a fabulous venue, open till 12pm.
Now this pub has more bars than Strangeways. Snug, lounge, tap room, sports room and what everyone goes for, Rocky's itself – very large room with big high ceilings to cope with all the lights and sound hanging from it and underneath it all, you've never seen a dancefloor like it – a massive boxing ring. Posts, red, white and blue ropes the lot. I think a lot of people will remember the good times here with DJ's Melvin, Tony and Mick and the dance music they played. Queuing outside to get in; it was one out, one in but occasionally being let in through a side door was nice – the staff always looked after one another so we could let our hair down; few drinks to relax and socialise after work and enjoy the music on the fantastic Rocky's dancefloor! Local pubs will never be the same again.
Next time around, The Cherry Tree – now there's a venue to talk about!