Sound & Vision – Squinting Cat & Cock Beck
Hello looks like we're getting across to you people with these articles, thought I might have to send out an SOS. There's nothing like a few old memories, its the name of game to look back on the pubs we all had enjoyable times in & of course to say thank you for the music we all listened & danced to. We may have to reissue them all, no just kidding I couldn't put you through all that again, so instead I've hidden some Abba song titles from back in the day, see how many you can spot..
Ok then, before we start this month let me say THANK YOU for the feedback & I do I do l do really mean that, seriously, to the people I bumped into in the pub, well ok PUBS for some great memories and reminders. Now that's what we want, come on take a chance on me, PHOTOS from back in the day, get in the loft have a dig around, look in all them old hand bags girls there must be some pictures in there somewhere!! You never know you might find some money money money in there!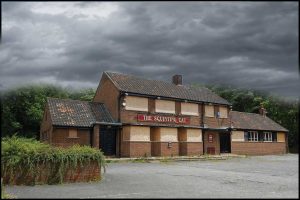 Right then some reminders; The Richmond Inn always cropped up somewhere in everybody's conversation.. STICKY! The nickname of the pub, oh yes! Honey honey, the carpet always stuck to your feet it just sounded like velcro ripping apart, well with three or four hundred people in there on an evening your bound to spill some beer! And I always remember when Joe the landlord (to be sure) a good old Irish lad, purchased a Rolls-Royce that was a topic of conversation, he had it painted ice blue & with a  black vinyl roof, knowing me knowing you, not the look for a roller!! Although with that blue shirt he always wore and a trip to Toni & Guy for the glossy look! Twins you could say! Oh what a sight haha!
Talking about cars, or in this case stopping them dead in there tracks & causing the biggest traffic jam ever on the A64, well at least until they started building that cycle path a couple of years ago! Kathy Sims wedding day; yes our very own dancing queen, the landlady from The Shaftesbury, there she was on one of Tetley's Drays and accompanied by two of the biggest & best dressed shire horses making her way up York Road, all in white & more feathers then you can imagine, even Lily Savage would have been jealous. What a sight to see, was more like a royal visit, but that was Kathy! You could say she was, the best when & all is said & done.
Let's move on to the Squinting Cat, or the John Smeaton as it came to be known as, you can change your pubs name, you can throw a load of money at it but it doesn't change the pub. A nice enough local, the usual lounge and tap room, the same regulars day in day out, a bit like a working mens club, your sat in my seat etc, always one or two under age drinkers in, I used to say does your mother know your here and of course, like all East Leeds pubs, some good old characters. Always remember one of them Willy Irish used to come in the Whinmoor quite a lot too, always had a joke and what a personality. Willy could have made a really good stand-up comedian he could really reel them all off, one after another always centre of attraction, always reminded me of Kenny Lynch!  
Let's move onto the Cock beck, always welcoming with the feel of a cosy country pub. Tap Room & lounge set in its own car park at the bottom of Pendas Way adjacent to Barwick Road, it was a meeting place; there was a happy atmosphere, it would get you in the mood for a night out before you hit the night clubs. That reminds me, let's mention the girls for a change, Rita, Kath & Haylene, Charlie's Angels they became known as. Had some great times with these girls, Thursday nights great conversation always remembered them saying gimme gimme gimme a man after midnight, they really were a good laugh. Get in touch, must have a drink some time! Well that's your typical public house. I have a dream,
Live everyday as though its your last  
How many did you get? … let me know.