Former Whitkirk resident John Lake is the author of the Leeds 6 trilogy. Following the novels Hot Knife & Blowback, the final instalment Speed Bomb is out now. We caught up with John a couple of weeks ago…..
ELM: Why is it called Speedbomb?
JL: It's a drugs term. Wrapping a small amount of speed in a Rizla and washing it down with a drink. The first two in my Leeds 6 Trilogy (Hot Knife and Blowback) are also named after drugs terms, so it seemed appropriate to continue the theme.
ELM: Is it a theme, or a way of attracting a druggie readership?
JL: A theme in that drug consumption forms a constant background, as it does to a huge number of people in this country right now. War is another theme in all three books. In the new book, a third is conspiracy theories. All three are constants in the media. Just look at some of the theories on the disappearance of the Malaysian Airlines jet, not a few involving the CIA. I'm not saying I believe them, but they're a part of life, and therefore a legitimate subject of fiction that hopes to be taken seriously.
ELM: Are they intended to be a serious reflection of the real world?
JL: Yes and no. My aim was to write thrillers with snappy titles. Hot Knife was based on the Leeds 6 I knew as a student, inspired by people I met, stories I heard and events that I witnessed. I was going after a social-realist feel, kitchen-sink drama for the late 1990s. In the follow-up, Blowback, I created a Ukrainian mafia that doesn't actually exist in Leeds, to my knowledge. Nevertheless, it seemed a credible invention when it became obvious that Blowback was going to be more of a straight thriller. The same core characters appeared from Hot Knife, but the stakes were higher than the pettier concerns of the first book, and the story a little more fanciful.
ELM: What about Speedbomb? Fanciful or realistic?
JL: A bit of both. Some passages are reworked observations on student life that didn't make it into Hot Knife. I think they smack of realism. But the protagonist is the Iraqi mercenary, Hamed, whom readers of Hot Knife may recall. He fled Leeds in the first book after landing in big trouble, and now returns three years later to face the music. Hamed's a larger-than-life character who ends up being mythologised by people. On another level, though, Speedbomb is set just before the Second Gulf War, and the fact that he's Iraqi provides a further reach into the global politics that the book is concerned with. Whether those concerns are realistic or fanciful is for the reader to decide.
ELM: You announced on your Facebook Author Page that Hot Knife has been optioned for film or TV production. What does that mean, exactly?
JL: Carl Hindmarch, who's worked in television for twenty years, has acquired the right to tout the book round production companies. If it goes into production, I might see some dosh, but it's a big 'if'.
ELM: Has he read the other two?
JL: Yes, and the deal could extend to those. Carl's from Leeds originally, and even worked behind the bar of the Royal Park years ago. He knows the setting and loves the stories and characters, so it's great having him in my corner.
ELM: Is Speedbomb really the end of the series?
JL: As far as The Leeds 6 Trilogy goes, that's it. I think the character of Hamed 'has legs', though, and could go on to other adventures in other locations – in fact, the first eight chapters of Speedbomb take place in the Philippines. I can envisage him as a global troubleshooter spawning a whole spin-off series. I've written a few pages of a new story already. Whether it gets finished… let's wait and see.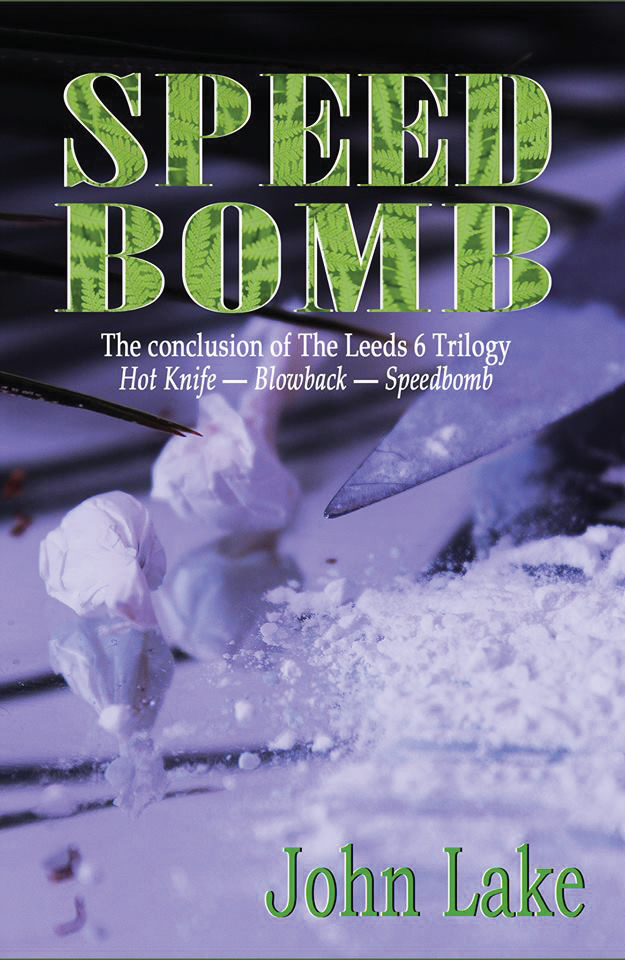 Available on Amazon & all good bookshops.
www.amazon.co.uk/Speed-Bomb-John-Lake
www.waterstones.com/john+lake/speed+bomb/
https://www.facebook.com/John Lake/SpeedBomb