St Gemma's festive fundraising event
Leeds Santa Dash
Sleigh Bells ring, are you listening? On Lands Lane, snow is glistening, a beautiful sight, to see peoples delight, dashing in a winter wonderland.
Are you looking forward to Santa shimmying down your chimney this year? Then get in the spirit of the festive season by taking part in the Leeds Santa Dash in Leeds City Centre. There won't be just one Santa, two Santas, or even 10 taking part. There's hundreds of Santas who take part in this dash every year, raising vital funds for St Gemma's Hospice. It's time to dust the snow off your running shoes, gather the elves together, and sign up for this amazingly festive event on 13th December 2015!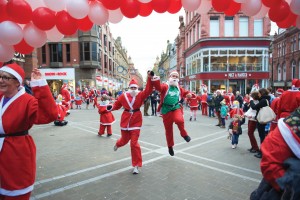 Raising incredibly vital funds for St Gemma's Hospice is a great way to start the festive season, helping St Gemma's bring joy and happiness to their patients. Depending on your ability you can dash through the city, taking in the Christmas sights, for either 1 or up to 5k. The dash is suitable for Santas or Elves of all ages and abilities (wheel chair/pram friendly route).
There'll be lots of seasonal cheer from the crowds to get you on your way. A warm up to loosen those limbs will take place at the start, led by a live brass band and there's a choir singing carols at the end to get you in the seasonal spirit. Plus hundreds of other Santas to pound the pavements with. Don't forget to get your cheeks all rosy with hot drinks and free food at Little Tokyo after the dash!
Be part of this fun and festive Christmas event, embracing the spirit of giving………then Santa will know just how good you have been!
It is £10 for adults and £5 for children, you get your Santa suit included in this. Sign up online at www.st-gemma.co.uk/santadash or call Charlotte on 0113 218 5580 or email her at charlotteah@st-gemma.co.uk.