St. Gemma's Hospice's annual sponsored dog walk 'Bark In The Park' is returning on Sunday 28th February 2016 and will be held at both Golden Acre Park and Temple Newsam Park, with a choice of 1, 3 or 5/6 mile routes.
All dogs must be registered in advance, registration is free and you will receive a free fundraising pack to help you raise as much sponsorship money as possible. All dogs will also receive a free doggy goody bag and certificate, and there will be dog mascots and hot drinks available! It's the perfect opportunity to enjoy a lovely Sunday walk and raise money for St. Gemma's Hospice.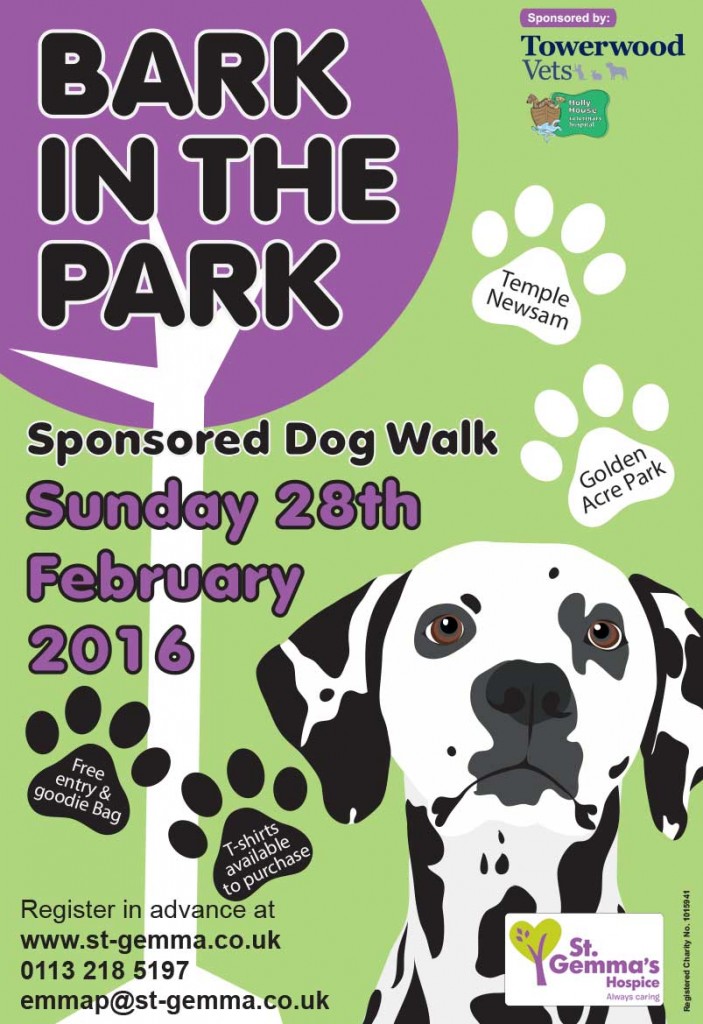 To register visit:
www.st-gemma.co.uk/dogwalk or call Emma on 0113 218 5197 for more information.
Are you looking to make 2016 a year you will remember and tick something off your life list?
In 2016 you can join the St Gemma's team on their London to Paris bike ride The London to Paris bike ride takes cyclists through the beautiful Kent countryside to Dover, before crossing the Channel and continuing through the rolling, green fields of Northern France, passing the war memorials and cemeteries of the Somme. The pièce de ré­sistance of this cycle challenge will be the spec­tacular view of the Eiffel Tower as you approach the finish line underneath it!
Take part in the July 'Tour De France' special– where you'll ride the last few miles of the Tour de France route through Paris, before spending the following day enjoying all the final stage action LIVE from the world famous Champs-Elysees.
A truly unforgettable adventure awaits you, so what are you waiting for?!
Various dates are available into 2016.
Visit www.overseaschallenges.org.uk
Call 0113 218 5580 or
email challenges@st-gemma.co.uk for more information.