For myself, my family and anyone who knew my brother Tony,  April 25th was a sad, sad day as he passed away, a victim of cancer in St. Gemma's aged 55.
Tony was known to East Leeds Magazine readers for the 'Tony's Stalking' pictures we ran, which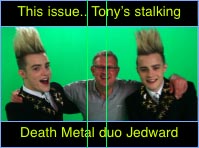 featured Tony with famous people he'd worked with in his job as a sound recordist. They were typical of his self-deprecating humour. Sadly, the last one we ran was on the front cover with Sooty and Sweep as part of the 'Stand Up to Cancer' campaign late on last year, which was also his last job as a freelancer.
Tony had an interesting life and career.  He'd been behind the Iron Curtain when it was still part of the Soviet Bloc and filmed documentaries all over the world including Iran, Mongolia and India with such luminaries as David Attenborough, John Simpson and David Bellamy. Loads of TV stuff followed including CBeebies, the Big Breakfast Show in the early nineties and more recently the Real Hustle, where he had to set his microphones up in all kinds of weird places as people were regularly duped.
Although born and brought up in East Leeds, Tony spent the majority of his working life, as TV dictated, in the South of England. However, he remained a proud Yorkshire man and still called Leeds his home.
After giving up freelancing 'Uncle Tony' as he was known in TV circles, had taken a contract with ITV, which although still based down South meant he got to come up North a bit more. Sadly he was only with them a few months before this terrible illness struck but we
were  comforted at his funeral by the presence of work collegues from both his freelance days and ITV. He seemed to make an impression wherever he went and we were really moved when the guys he'd only worked with for a few months from ProVision based at ITV in Leeds announced they were going to take part in the Jane Tomlinson Leeds 10k run on Sunday 14th July.
ProVison's Danny Howarth explains;
"The ProVision team have all been touched by Tony's passing and wanted to do something in his name and honour. On the Sunday 14th July 12 staff from across all the ProVision depots will be completing the Leeds 10k in aid of St Gemmas Hospice. We aren't the most athletic bunch but with determination and some hard work we'll make it together. If you can find the time and spare the change; any donation of any size would be gratefully received in aid of a fantastic charity and in honour of a wonderful man; Uncle Tony!!"
Ali Cogger
Thanks to Danny Howarth, Mark Wallace, Jonny Smith, Luke Wray, Stephen "the Tornado" Dobson, Tim Wileman, Graham Waite, James Jones, Martin Johnson, Cameron Macgregor, Mark Ashmore and Rob Cairns from all the Coggers and good luck with the run.
www.justgiving.com/Ten-For-Tony