Lawrie Burwell has been serving up top quality food for over twenty years in Crossgates, formerly at LB's Cafe and for the last four years or so at The Balcony in the Crossgates Shopping Centre (aka The Arndale).
"I had a couple of cafe's in Seacroft Centre but concentrated more on Crossgates when it was knocked down. I had LB's for about fifteen years but when the Wimpy closed down, the space on offer was too good to be true and we refurbished and renamed it The Balcony."
Lawrie prides himself in providing fresh locally sourced food wherever possible. "Our oven cakes are baked overnight and delivered fresh every morning by Scotts, the same goes for our pork pies which are Wilsons award winners. The salad and veg are delivered on a daily basis and our tea is Yorkshire tea!"
As much as Lawrie can, he likes to keep it local, The Balcony's famous steak pies are baked overnight and the chips are made daily on the premises. "Even the fish is fresh off the boat from Hull and our choice of burgers are normal quarter pounders, steak and onion or 6oz Aberdeen Angus. We prefer to concentrate on the old staple classics, we've an all day breakfast that as well as being available all day will keep you going all day. There's also a veggie option. Corned beef hash and liver and onions have been popular for years, as has our Chinese Chicken."
So the food's good, the prices are reasonable, the staff are friendly and there's plenty of room, what more can you ask for from a cafe?
"Well, about a year ago, we were awarded a Five Star rating by the Environmental health through Leeds City Council and we serve some lovely milk shakes!"
16a Crossgates Shopping Centre (aka The Arndale)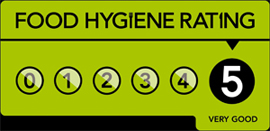 UPSTAIRS -Opposite Wilko's.
Call 0113 264 1457