John Moody is the youngest of three brothers, who with older siblings Steven & Bill, was part of a well known mobile disco on the now sadly deceased Leeds pub circuit, which included the Melbourne, the Victoria, The Shaftsbury and the Bridgefield.
"I started the "Sound & Vision" mobile disco in the late seventies with Steven and Billy. We did pubs, clubs, nightclubs, loads of charity stuff and gained exposure at quite a young age to all the characters and nutters Leeds had to offer."

Chatting with Bill and John, they were both keen to place emphasis on some of the characters around at the time, as well as the venues, many of which are already lost in time or are now supermarkets or houses. John still has fond memories of the Courtier pub.

"The first regular gig we got was at the Courtier at the bottom of Fairway Hill which changed its name to the Oak Tree for the Jubilee in 1977. It was the gig nobody wanted as the pub had a bit of a reputation but as we were just starting out, we had to take what we could get."

The landlady was called Cathy Simms and she could really look after herself. I don't want to mention any names but I remember her slinging people out for coming in with shotguns tucked inside their jackets. Despite the pubs reputation Cathy always made sure we were okay. Pub landladies really were seen as figures of respect, the punters were happy to have a go at the landlord, if the police came in a pub, they were abused, but somehow, when the landlady stepped in things changed and the maddest, craziest drunk became like a new born lamb, having said that Cathy couldn't half pack a punch!"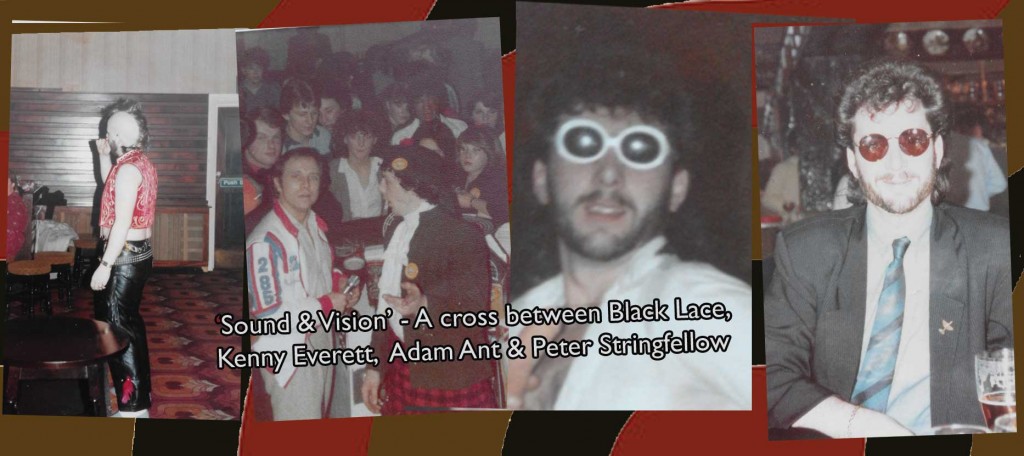 The pub and club circuit included singers and entertainers as well as Dj's. It wasn't unusual to pay a tenner admission when a well known DJ was on and John was quick to realise you had to do much more than just play records.

"You had to entertain, make the party and constantly change your act to keep the customers and bookings coming in. Part of my act was to spice it up and I used to play the Ivor Biggun song 'I'm a Winker (misprint)' with bald head and mac and sing along with all kind of props.

I used to dress up as Frankenstein and Dracula to the Monster Mash song and sent up Adam Ant wearing full regalia and face paint for "Your Money or Your Wife". I also farted around with the "Goodies (Blowing Off)" and messed around with Jasper Carrots "Magic Roundabout" (Boing said Zebedee, Dylan and Dougal). I used buckets of water for parts of my act that I would throw over the crowd, but later had to change to confetti to avoid receiving a slap."

Another regular venue was the Whinmoor. And it might sound mad to hear it but it was a pretty classy venue at the time.
"The lighting installation cost about £20,000, a lot of money in the early eighties. The landlord was a Maori called Johnny Wilson who apparently came over with the New Zealand rugby league team and ended up playing professionally for Bramley and was top try and goal scorer. I'll never forget him doing the Haka after a few beers, it was both funny and intimidating at the same time. A bit like most of the pubs we worked in." Bill & John will take you on a tour of the 1980's pubs & clubs over the next few issues.