One of the longest serving names on the Leeds gig circuit, if not the UK, Clandestine Root have finally, well maybe finally decided to call it a day and their last ever gig will be at Garforth WMC on 25th November in aid of  various Cancer Charities.
Founder member Mick O'Brien tells us all about it.
As was the original name, was (and still is) a band that was the brainchild of one person Andy Doran. Andy was an apprentice at R.O.F. Barnbow, and along with other apprentices took part in regular apprentice shows at the factory. It was following one of these in 1968 that he put the idea of forming a band to some other apprentices, Billy Young, Mick O'Brien, Pete Waterhouse, Ray Burton, and Dave Gillian. Apart from having no instruments, and some of them never having played an instrument before, and having nobody who played guitar or bass, the plan went ahead.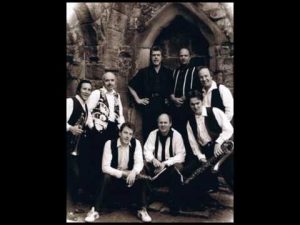 We recruited people to fill the gaps, trumpet players Tony Swaine and Mark Summers, bass player Franchet Alfonso Claxton Wilkes and his friend Essay Guy who played bongos/percussion, and guitarist Mike Reynolds. The missing equipment was bought and payed for by the band putting a weekly subscription into a kitty to pay for the hire purchase.
The first public gig the band ever played was in the Ship Inn off Briggate, and all the equipment,apart from the drum kit was taken there in stages on one lambretta scooter. After a one off live session on radio Leeds the band began to get more gigs. With more gigs more changes weremade with personnel and travel to gigs became more often and further afield, so much so that inthe end 2 transit vans were needed to get gear around.
The band continued to play with various line ups until the early 70's. It was reformed in 1992 as a one off concert to celebrate Andy's 40th but everyone enjoyed it the much it continued for a number of years until Andy's death from cancer. After a number of years break it had another temporary reform in 2005, and again decided to restart with Bob Deakin replacing Mike Reynolds on guitar as Mike had moved down to Dorset, and that went on for another 5years.
During all the time since the band started it has lost three members to cancer, Andy, Ray andMike, while other previous members have or in some cases still are fighting the battle with cancer, and it is because of this fact that the band has decided to try and raise money for the fight against cancer by reforming for this one last concert………..or is it.