When Gipton Fire Station was decommissioned three years ago, local community organisations GIPSIL and Zest Health put their heads together and approached Leeds Community Foundation (LFC), the charitable fund helped by the late Jimi Heselden with a view to convert the building into a community and enterprise hub. Following discussions with Jimi's family, LCF made a grant available from Jimbo's Fund to finance the purchase and renovation of the former fire station.  Jimi felt passionately about supporting his local community, so this is a very appropriate way of acknowledging his tremendous generosity.
Other partners jumped on board and the result was a stunning renovation which was completed in August. Project Consultant Fran Ethrington and Reception Manager Jess Woodall showed us round and it was obvious they were both very proud of the place and it was difficult for them to contain their excitement.
"It's just brilliant to be finally open and we can't wait to engage with the local community to see what they want us to do with it."
And the renovation is simply stunning, there are loads of original features including the original flooring – cleaned up to look absolutely stunning, the original fireman's pole and all sorts of pumps and fireman related stuff dotted around.
As you enter, The Feelgood Cafe really is a cafe with a difference. Reasonably priced and open to everybody, 8am – 3.30pm, if you find you like the seat where you've parked your bum, then you can buy it! A great idea set up by local charity SLATE who up-cycle furniture and also provide work opportunities for people with learning disabilities, mental health issues and anyone categorised as long term unemployed.
Leeds Cookery School, set up by Zest Health for Life, has state of the art kitchen facilities and covers a wide range of cookery classes from basic budgeting, how to make nutritious meals from leftovers, right up to classes producing fine chocolates.
Round the back in the Annex, local arts group, Space2 were already engaged with the local community after putting on the play 'Gipton the Musical.' As well as offering rehearsal space for drama groups among a host of other things, they've already set up the "Glowing Embers Exhibition' a tribute to the history of the Fire Station which involved local school children.
Upstairs, GIPSIL one of the original pioneers of the renovation, can offer all kinds of help, advice and counselling. People in Action benefit people with learning difficulties and Healthwatch Leeds is on hand to help you get the best out of local health care.
There are also rooms for hire, whether you're a business or a dance group. The Heselden Room is ideal for small conferences and Jimmi's Community Room, complete with screen projector and sound system, is ideal for anything from training to dance classes. Oh and there's even talk of a community cinema.
"We are already offering a lot to the local community but I can't emphasise enough, we don't want to lead and are happy to follow, it's an ongoing project so please, get in touch and tell us what you want."
We feel we have to apologise for not having the space to go more in depth about the great work been done at the Old Fire Station, check them out online or get down there to see for yourself, it's not an exclusive club, they really are opening doors in East Leeds.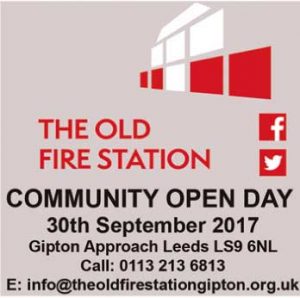 THE OLD FIRE STATION
COMMUNITY OPEN DAY
30th September 2017
The Old Fire Station
Gipton Approach
Gipton
Leeds LS9 6NL
Call: 0113 213 6813
Email: info@theoldfirestationgipton.org.uk