Vee Keegan set up 2001 AD Tattoo Studio in 1987 and is now one of the longest established studio's in Leeds. Previously, she learnt her trade down south with a variety of tattooists, working on weekends whilst studying Chemistry and Maths at London University.
"Art was my hobby and my passion, when I came back to Leeds I took a post teaching which helped finance me to buy the shop and open 2001 AD. For a while I was viewed as the mad chemistry teacher who tattooed people in her spare time."
Vee somehow found time to start a family and after the birth of her second daughter, something had to give. The tattoo studio was going well and teaching was more time consuming so Vee opened 20001 AD on a full time basis and has never looked back.
"When I opened there was only Babs in town and Domestic street in Holbeck. Times change, tattooing has become very trendy and there's less legislation than there was years ago. I think there are about 80 studios in Leeds now. Ink is easy to buy online now, a few years ago you had to be registered to buy it which has lead to an increase in people doing it from home."
While choice and competition is no bad thing, as with any trade which witnesses an upsurge, there will always be good and bad involved.
"I've seen a massive increase in people coming in with home done and badly done tattoo's. They should remember when their little brother wants to practice on their arm, the result is there for life. I would also advice people to really do their research on whichever tattooist they decide to use."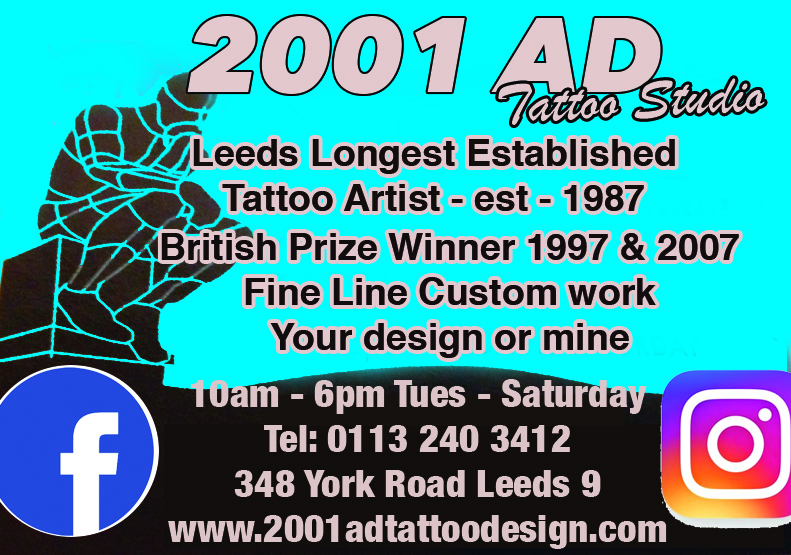 But it's not all bad, Vee is keen to stress there are some exceptionally good tattooists in Leeds, she herself has been a winner of the British Tattoo Federation award for Realistic Work in 1997 and 2007 and there's also hope if you want to cover up a recent bad tattoo or that home done tattoo you had on your arm when you were 15. "Tattoo Fixers on TV has really helped as most people didn't realise a bad or embarrassing tattoo can be fixed. It doesn't always need to be a large cover up, sometimes a few little adjustments of the existing tattoo can help, sometimes actually using the shape of it as a base. I recently received a card from the wife of a customer who had some particularly embarrassing tattoo's on his forearms which I made into a nice contemporary piece of art. It said quite simply…
"Thanks for giving my husband his arms back, he can wear a t-shirt in summer now."