A topsy turvey last few weeks, I've arranged to fight here there and everywhere and then dates, times and schedules have changed,  two or more offers have come at once it's become a case of which way to jump.
Before any of that I'll just go back to the beginning of the month and in the first WBU sanctioned fights in the UK for about five years. It was also the first time a WBU had professional and non-professional fighters on the same bill. And I'm proud to say the Bethlehem stable now has two WBU champions.
Sam Smith adde
d the WBU Ladies Lightweight title to her collection after beating Manchester's Catherine Graham. In a fight scheduled for five rounds, Sam dominated from the beginning, flooring her opponent in the first round and the referee called a halt to the fight after Sam threw a straight right on the jaw close to the end of the second.
Billy Wilkinson boxed to orders for a change in winning the WBU National Featherweight title. I'd put a lot of work into sparring with Billy for this fight. He's a great boxer but he often ends up arguing with himself during the fight so I worked on his focus using the 'Fight Like Marvin' routine. This is all about consistent shots as opposed to always looking for the big one, no matter what situation you are in, keep throwing punches – work for your win – nobody else can do it for you.
As regular readers will know I've set my heart on a few fights in America. I was hoping to defend the Irish title over there but it's not proved possible as yet. As times gone on, I realised I needed to get back in the ring, I need to defend my belt as I don't want to be stripped of it.  So I'm fighting in a non title fight on the Irish Invasion show at York Hall, Bethnal Green, London on July 5th. As much as it's a get-me -back-in-the-ring fight, I wont be taking my opponent lightly and amazingly, after fifty professional fights, it's my first in the capital.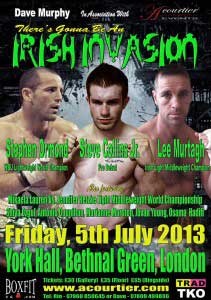 Then in September I've accepted a IBO Intercontinental title fight, against holder German Nick Klappert in either Florida or Panama.  Then hopefully to round the year off I'll be up against Wilky Camfort, again in a title fight. I was offered the fight for June 22nd but the timing was just too short notice as I'll be stepping up to middleweight for it, so hopefully it will be an Autumn fight.It's been a real experience trying to sort a fight out in America, what with time differences, different liscencing bodies but it's become another thing on my 'tick list' and I would love to have the experience before I eventually hang up my gloves. Someone asked me if I wished I'd pursued this ten years ago but if I'm honest I wasn't ready then and to be honest, the Irish title has opened doors for me. In-between all this, I'm trying to organise a defence of the Irish title, hopefully in Ireland. As I've kept saying, the number one contender is Phil Fury but I don't really want to defend the title  in England. I think it's only right it should be Ireland or we should make history by staging it in America, so hopefully we can sort something out.
Lastly, I'm taking two of the Bethlehem lads over to Malta for another show. It's another EBF showcase and a chance for Jack Smith and Javase Lewis to fight in a different country. It's a great experience and I'm hoping Malta becomes a regular fixture on the Bethlehem calendar.