I love this time of year when at last our part of the world starts to Spring back into life and we all come out of our self imposed hibernation against the cold and long dark nights.
The Snowdrops and Crocus have already reared their heads and what a welcome sight they were in the bland month of February, they really do add some colour. The beautiful yellow daffodil follows around the beginning of March.
But I have to wait a bit longer for my personal favourite and I know spring is here when I take the dog out to the woods and see the beautiful purple carpet of Bluebells and the accompanying scent.
But did you know the English Bluebell is under attack? An armada of Spanish Bluebells came to Britain around the 16th Century and never went back! Over time they seem to have crossbred with the prettier and more scented English bluebell to the extent that in a recent survey, one in six woodlands were found to contain the Spanish Bluebell or hybrid mix of the two. Another reason to exit the EU, coming here with their fancy foreign flowers!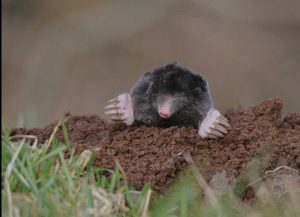 A welcome sound is the 'Dawn Chorus' which should begin around now. And for anyone who 'wishes that ****** bird would shut up' at 4.30 on a summers morning – try to lie back and see if you can recognise the different voices. Among the earliest to rise are skylarks, song thrushes, robins and blackbirds, out for their breakfast of worms and grubs, if you can't take any pleasure from nature performing a symphony in your back garden, then my only suggestion is earplugs!
And anyone tempted to reach for the airgun at that ungodly hour – a lesson from history – when Chairman Mao ordered all the Sparrows be shot because they were nicking seeds and grain, nobody told him it would leave the crops unprotected from insect predation, inevitably much of the grain harvest was destroyed which in turn caused a massive famine.
Lastly, you may have seen a lot of molehills on the hedgerows and fields already this year.
I've also been called out a lot more than usual regarding moles in gardens. I can only think it's down to the milder
winters. I know Moles are generally viewed as been little cute things but they can very quickly cause havoc on your lawn. A mole basically is a worm farmer and worms like it when a lawn is long and lush, so another tip is to keep your lawn short this summer. The less worms you have the less likely you are to attract moles.
A downside to Spring time, is pests become more common, so that's why we've introduced our 'Pest Proofing Survey.' We will check your property, the loft, the drains etc, for everything from mice and rat entry, right down to slugs entering through air bricks.
Another lesson from history –
Prevention is better than cure!