Issue 36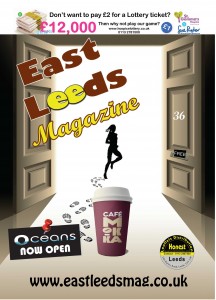 Birds flyin' high, you know how I feel
Sun in the sky, you know how I feel
Breeze driftin' on by, you know how I feel
It's a new dawn, it's a new day,  it's a new life for me.
And I'm feelin' good.
Nina Simones classic about a new start. And we've had a new moon, a new year and hopefully new doors will open for us all.
The doors are already open for Cafe Mokka and good luck to Gerti & Paulina in their new venture.
Stopping smoking? Mirage E cigs are the people to talk to and if you find it all a bit too stressful, relax with a bit of meditation once a week. Getting fit? Try Leodis Gym or a bit of Boxing Training. Broken down? You might need a bit of physio, Andrew Brogdan is sure he can hit the right spot and if all this physical exercise is a bit too much, give your brain a workout by enrolling at Deacon House.
Hope you all had a good christmas and New Year. We blew the cobwebs away by going up to Tempsi on New Years day and joining the parkrun 5k run. We didn't actually run though (ahem) but we did make a video to go along side the article on page 32.
We've a video interview with Bridewell Taxis lead singer Mick Roberts talking about the recently released 5 album box set,  have more from Mick in the next issue plus details of a second launch party.
Happy New Year
Ali & John