Redevelopment of St Mary's Church Hall, Selby Road, Whitkirk
Have you ever attended St Mary's Church Hall?
Since it was built in 1968 it has been an important focal point in the area hosting church events, musical performances, theatrical productions, political meetings and much more, as well as a wide range of social and family celebrations. It is very much at the heart of the local community and as we strive to improve the building and the services provided from it, we need you to help us as we seek to redevelop our hall for the whole community.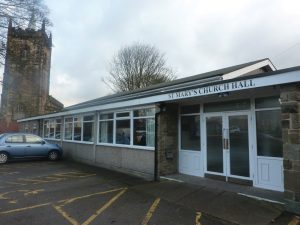 In recent years the church has been looking at how we might update the facilities that we have to offer, as it has become clear that the church hall is now quite outdated and needs to be brought to a position where it can better meet the needs of those who use it.
The church has been working closely with architects since September 2015 in developing a redesign of the church hall. To aid this process, two public consultation sessions were held in April 2016 to allow members of the community to put forward their ideas, along with an email address for submitting ideas at hallredev@whitkirkchurch.org.uk
From that process, we are clear that we need a hall that is more accessible, can host more than one group at a time and with better support facilities.
To achieve this, our original intention was to refurbish the entire hall both internally and externally but the potential cost was too expensive and unrealistic. A more modest design has now been chosen and is focussed on those elements of the hall identified during the consultation we have done so far, and includes an extended kitchen to improve our catering facilities, a larger toilet block with disabled and baby changing facilities, a new office, improved disabled access at the main entrance and refurbishment of an existing room to become a place for smaller meetings and activities, which means that more than one group can use the building and small activities can take place in an appropriate space.
Details of our plans can be found on our website at whitkirkchurch.org.uk
Over the next 12 months we will try to raise the funds necessary to complete the works which we hope will begin in summer 2018. The cost of the scheme is currently estimated at around £400,000.
In April 2017 we will be carrying out a further public consultation by hand delivering a survey to some 6,000 homes in the Whitkirk, Colton and Austhorpe areas. The aim of the survey is to try and find out if there are any needs within the community that we may be able to assist with and build them into our planning as we move forward. Please look out for this survey if you live in these areas. If you don't live within these areas and you would like to complete the survey please visit our website (details above) to complete an online survey form.
The Hall Redevelopment Team
St Mary's Church, Whitkirk