Hello again. We've had an eventful few weeks here in the shop.
Firstly, we ambitiously entered the 'Butchers Shop of the Year competition. The entry process involved sending a comprehensive set of photos of the shop along with answering a million and one (or what seemed like it) questions at great length. Though it may have felt like a chore at the time, it's proved itself worthwhile now that we have officially been informed that we've made it through to the last three shops representing the North of England. Now we eagerly await a visit from a couple of food writers in October. Watch this space for future updates!
Andrew has been getting his hands dirty developing our new homemade scotch eggs; Ian Taylors free-range eggs wrapped in our delicious Lincolnshire sausage meat, with a perfect blend of herbs and seasoning, finished with an orange crumb. This new addition has taken off like wild fire; we're now making them daily in order to keep up with demand. Try one on your next visit, you won't be disappointed.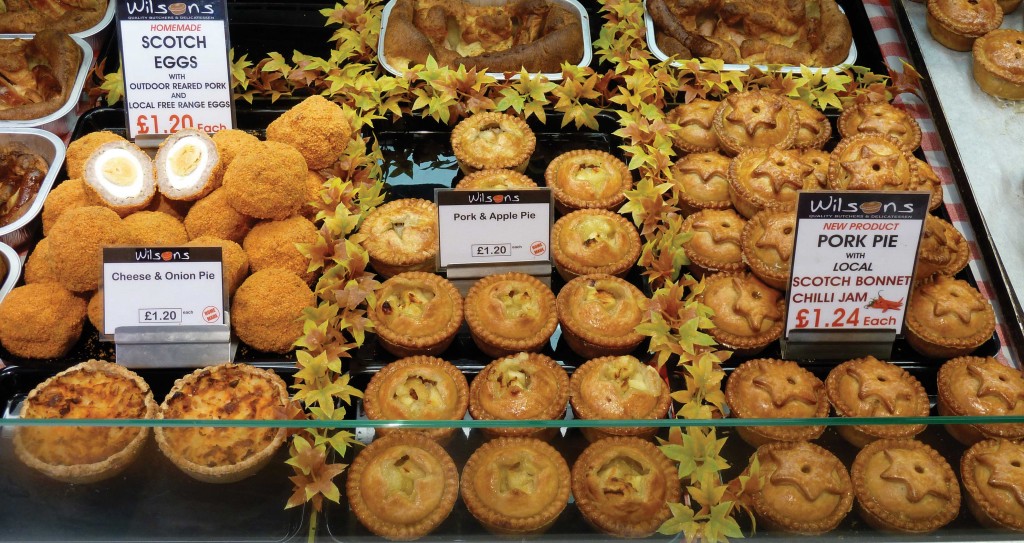 Another new addition is Andrew's Cheese and Onion pie. Though a popular option, our Cheese and Onion pasties occasionally have problems with the filling boiling out during the baking process. Our new Cheese and Onion pie solves the problem with diced potato, grated mature Cheddar Cheese and sweet diced onion in a hot water pastry casing – a very decent size and tasty too!
These new products have found a new home in the left hand side of our Pie Counter display, along with our Scotch Bonnet Chilli Jam Pork Pies and our Pork & Bramley Apple Pies. Look out for samples on the counter top!
Still in the developmental stages at the moment, are our Pork & Black Pudding Pie and our most ambitious project yet, our Gluten-Free Pork Pie. Our initial attempts have been very promising and the response and support from social media has been fantastic. If you'd like to be kept up to date with the development of these pies, amongst other goings on, please 'Like' us on Facebook (www.facebook.com/WilsonsButchers) and 'Follow' us on Twitter (@WilsonsButchers).
Meat the Butcher.  
We would also like to welcome Jake to our team of butchers. Jake has already worked for us now for over 14 months in a
weekend/part time capacity so is well on his way to learning the ropes.  Please say hello to him when you are in the shop. He is usually found serving on the counter or preparing some products for the counter.
Bon Appetit
John & Andrew