Hello again, it is great to be waking up to daylight at long last after the dark winter months. Now spring is well under way we have been involved in the 'Q Guild Barbecue Competition' held at Rockliffe Hall in Middlesborough. a competition of Barbecue products. It may seem early but with the right weather, April May and June can be our best months for barbecue product sales.
I think this is because after the  winter, most people are just looking for an excuse to get outside in the garden and eat something a bit different. I am pleased to report that we did extremely well in the competition. In three categories we were down to the last two products in a cook off, but unfortunately we ended with three second places. Not too bad though as it was against some of the best butchers in the country and it does show a consistency in our products. One of the products was our sirloin steak, using beef from Tony Lawn's farm in Barkston Ash. One of the judges told Andrew that he couldn't chooses between ours and the eventual winner, praise indeed!
Hopefully most of our customers will now have filled in a form and applied for our loyalty card. Even we were surprised by the fantastic response we had and Francine, in our office who has been tapping away at the keyboard entering all your details, has eventually been able to catch up and now we have a big box of cards ready to collect from the shop. Please ask for yours when you next visit, and start collecting your points now.
The rugby Superleague  season is now underway and once again our pie van is there, located behind the North stand backing onto the cricket pitch. Make your night at the stadium complete with some of our Pie & Peas, not forgetting the mint sauce mind. Hot and cold  drinks are also available. Please drop in and say hello to Adam, Chris & Francine.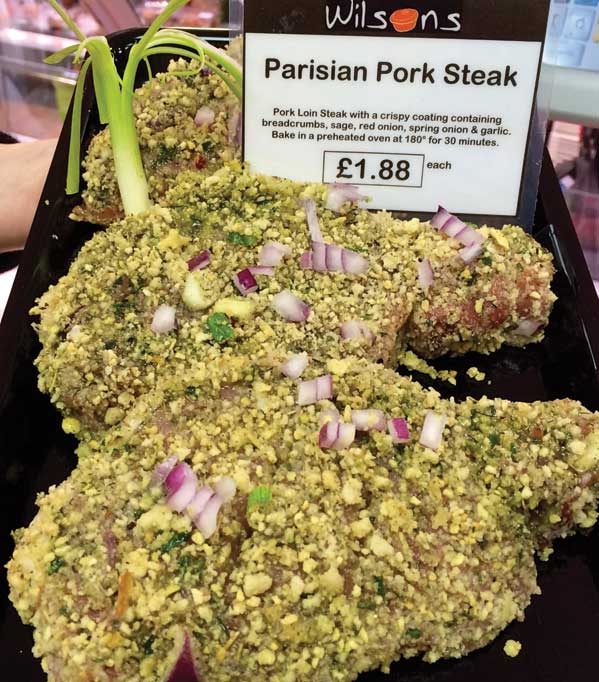 Due to popular demand we have reintroduced our Pulled Pork sandwiches at lunchtimes and sales are going from strength to strength. We now seem to be cooking more every day. The sandwiches, which are available on the carvery counter, are served with BBQ sauce, apple sauce, stuffing or gravy. (or even a combination) Try one next time you are in, you won't be disappointed.
Behind the scenes, Lewis has been busy developing new products, and this month he has come up with a couple of belters. The first is his Wild West Chicken, this is a chicken fillet stuffed with cheese and smokey bacon and then coated in Barbecue sauce and garnished with diced spring onion, and baby sweet corn. They really are tasty and have sold well from the first day he made them. The other new line are Lewis's Parisian Pork Steaks, these are boneless pork chops, cut slightly thicker and coated in breadcrumbs, sage, red onion and garlic. These are intended to be baked in the oven for 30 minutes, and the end result will be a succulent pork steak covered in a delicious crispy   coating. We have tried both products, and if we say so ourselves, they are delicious.