Happy New Year everyone! I know it's a bit late considering Spring is on the horizon, but we took a break from contributing to the last edition to recover from the intense workload over the Christmas period. Now, however, we look forward to the year ahead.
I'm pleased to tell you that we have been continuing the development of our Gluten-Free Pork Pies and have now acquired some additional machinery to aid us separating the gluten-free production from our regular production. The process is a long one, but we are working to try and get it right first time. You can keep up to date with our progress on our Facebook page.
 Andrew has been busy concocting some delicious new individual pies – look for the         generously-sized square pies in the front counter. We now have Meat & Potato, Turkey & Ham and    Steak & Kidney; made with the finest ingredients, encased in our own short crust pastry and guaranteed to satisfy even the biggest appetites! Give them a try on your next visit and let us know what you think. We're sure you won't be disappointed!
The recent cold spell makes the perfect weather for a hearty winter warmer stew, and we've got plenty of choice in beef cuts for you to use; Diced Beef, Braising Steak, Casserole Steak (for those who like it leaner), Shin Beef (so succulent), Beef Skirt (a lovely shredded texture), and not forgetting my personal favourite, Ox Tail. Cooked correctly, the meat just falls off the bone; served with mash and gravy – simply mouthwatering! If you fancy trying Ox Tail, please ask a member of staff to put some away for you – you do only get one tail on each cow!
Slow cookers are an ideal and effortless way to prepare winter stews; add your ingredients, turn it on,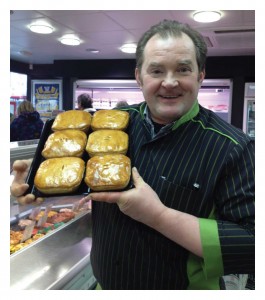 go to work and forget about it, then arrive home to a delicious stew cooked to perfection. Browning your meat first can give it a bit more flavor, but is not essential. Apart from being the pinnacle of home cooking, stews are also very economical. It's always worthwhile to cook more than you need because what is left can be reheated and can taste even better the following day, ensuring no waste.
Whilst giving out samples of our Flavoured Chicken Steaks last weekend, I was surprised how many customers liked them but had not tried them before.   They are easy to cook, either in the oven or a frying pan, and are packed with flavor. We recommend serving with some potatoes or rice, and a few veg for an excellent and satisfying meal. We have recently introduced a great new flavor to our range – Bombay Chicken. These succulent chicken steaks are coated in tasty curry-style marinade oil and then covered in a spiced Bombay crumb. They are best cooked in the oven on a baking tray for 20 minutes at 180C. Our other chicken steak flavours include French Garlic, Lemon Pepper, Hot & Spicy and Mango & Chilli – A flavor to please everyone!